Flash Foresight: How to See the Invisible and Do the Impossible (Hardcover)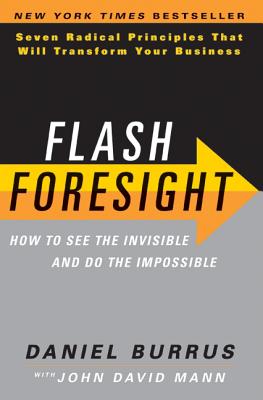 $27.99
On Our Shelves Now as of 24 Hours Ago
Description
---
Flash Foresight offers seven radical principles you need to transform your business today. From internationally renowned technology forecaster Daniel Burrus—a leading consultant to Google, Proctor & Gamble, IBM, and many other Fortune 500 firms—with John David Mann, co-author of the Wall Street Journal bestseller The Go-Giver, comes this systematic, easy-to-implement method for identifying new business opportunities and solving difficult problems in the twenty-first century marketplace.
About the Author
---
Daniel Burrus serves as a strategic adviser to executives from a wide range of Fortune 500 firms, helping them discover invisible opportunities and solve impossible problems. His client list includes Microsoft, Kaiser Permanente, Toshiba, GE, Procter & Gamble, American Express, Kellogg, Ernst & Young, Disney, and IBM. He has founded and managed six successful companies and has been the keynote speaker to more than 2,400 audiences worldwide. His highly acclaimed book Technotrends has been translated into more than a dozen languages.
Praise For…
---
"The ability to see trends and identify future opportunities is a skill anyone can benefit from - and Burrus's latest work is a valuable introduction to the fundamentals."
— Publishers Weekly

"A welcome jolt of optimism."
— Kirkus Reviews

"Flash Foresight is transformational reading. Burrus has provided a brilliant blueprint for mapping the problems and solutions both of the present and the future. He may also have given us one of the best business books to be written in a long time."
— Business Lexington

"Full of provocative insights and powerful strategies from a veteran entrepreneur. The 'Take Your Biggest Problem - and Skip It' chapter alone is worth the price of admission."
— Steve Forbes, Editor-in-Chief of Forbes and CEO of Forbes Inc.

"Superbly written and thoroughly researched, Flash Foresight equips the reader with seven valuable principles that provide uniquely effective strategies to grow personally as well as professionally."
— Stephen R. Covey, author, The 7 Habits of Highly Effective People and The Leader in Me

"I love this book! It's as much fun to read as it is inspiring to learn from. Buy it, read it, and put it to use-in a flash!"Alan M. Webber, co-founder, Fast Company
— Alan M. Webber, co-founder, Fast Company

"With the increasing pressure to innovate and gain competitive advantages, leaders from start-ups to multi-national organizations will find deep insights from the seven principles of Flash Foresight. It will change the way you think about your current obstacles and open your mind to limitless new opportunities."
— Terry Jones, founder Travelocity.com and Chairman of Kayak.com

"After reading Flash Foresight and applying the principles to our business, in less than a year we have been able to double our revenues and increase the value of our company by a factor of four."
— Arnie Bellini, CEO, ConnectWise

"Fascinating! A powerful competitive weapon that cuts through the clutter, Flash Foresight shows you what you need to do to survive and thrive in the challenging times that lie ahead."
— Rear Admiral David Bill III, USN (Ret.), Executive Director of Naval Postgraduate School (NPS) Foundation Rear Admiral David Bill III, USN (Ret.), Executive Director of Naval Postgraduate School (NPS) Foundation Rear Admiral David Bill III, USN (Ret.), Executive Director of Naval Postgraduate School (NPS) Foundation Read Admiral David Bill III, USN (Ret.), Executive Director of Naval Postgraduate School (NPS) Foundation

"Flash Foresight provides a flight plan through turbulence and a provocative window to the future that will stimulate a great amount of innovation and positive change."
— Howard Putnam, former CEO of Southwest Airlines

"Flash Foresight is a revolutionary book that offers the insights and strategies leaders will need to profit from the transformational times ahead."
— Marshall Goldsmith, author of What Got You Here Won't Get You There

"What if you could predict the future? Reinvent the way you solve problems? Skip over an obstacle and get right to the finish line? Read Flash Foresight and let Daniel Burrus show you how. The possibilities are infinite."
— Ken Blanchard, co-author of The One Minute Manager® and Leading at a Higher Level

"Flash Foresight is all about accelerating business and personal growth, showing you how to see major hidden opportunities, skip over the most difficult problems, and using the power of certainty to transform your business and your life. I highly recommend it!"
— Jack Canfield, co-author of The Success Principles and of the bestselling Chicken Soup for the Soul® series

"For a quarter century Daniel Burrus has made a science out of showing individuals, companies and organizations how to discover the limitless potential of their own future. Flash Foresight is an outstanding blueprint for innovation and success!"
— Anthony Robbins, author, entrepreneur and peak performance strategist

"In uncertain times, foresight needs to be 20/20. Daniel Burrus' visionary concepts shed new light on the strategies that will keep your business looking bright."
— Harvey Mackay, author of Swim With The Sharks Without Being Eaten Alive

"Flash Foresight is filled with powerful stories that teach readers how to get bursts of insight about the future that reveal hidden opportunities and provide real solutions to what were seemingly impossible problems. I highly recommend it!"
— Peter Guber, chairman and CEO of Mandalay Entertainment Group, producer of The Color Purple, Rain Man, and Gorillas in the Mist

"Flash Foresight, is full of powerful, useful, easy-to-understand-and-apply principles for discovering and inventing the future....When you are finished, you'll never see the future in the same way again."
— Joel Barker, author of Paradigms, the Business of Discovering the Future

"A must-read for leaders in both business and education, Flash Foresight provides provocative insights that will intrigue and inspire your professional and personal life."
— Dr. Nido Qubein, President of High Point University, Chairman of Great Harvest Bread Co.

"This book is nothing short of a revelation. A must-read for any thought leader and all those who aspire to be."
— Joe Calloway, author of Becoming a Category of One

"I always get great insights from Daniel Burrus, and his new book, Flash Foresight, does not disappoint! Not only will it help you create a brighter future, it will also give you tools and ideas for living better today. I highly recommend it."
— Mark Sanborn, author of The Fred Factor and You Don't Need a Title to be a Leader

"This book is extraordinary! A brilliant must-read for any executive who chooses to play big and not settle for incremental improvement. This book could create a worldwide transformation."
— Roxanne Emmerich, author of Thank God It's Monday! How to Create a Workplace You and Your Customers Love

"If people had understood and applied the strategies in Flash Foresight, we might have avoided some of the trials and tribulations of recent times. Here's to a brighter future for everyone who reads and uses Daniel's book."
— Tom Hopkins, author of Selling in Tough Times

"Flash Foresight is chock-full of examples showing how organizations of all sizes have applied Burrus's seven powerful principles to do seemingly impossible things. A fast read that will prime the pump for any entrepreneur or organization ready to transform their product or service."
— Dianna Booher, author of The Voice of Authority and Communicate with Confidence!