Little Oxford Dictionary of Quotations (Hardcover)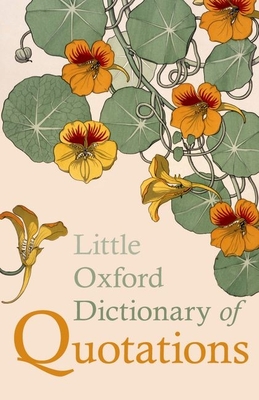 $14.95

On Our Shelves Now as of 24 Hours Ago. Call first to confirm.
Description
---
Life is either a daring adventure or it is nothing. The fool wonders, the wise man asks. Comedy is tragedy plus time. Friends are the sunshine of life. It is hard to imagine a more convenient reference--and a more engaging book to browse in--than The Little Oxford Dictionary of
Quotations. Here at your fingertips are over 4,000 of the best things ever said on more than 300 topics. From Actors to Writing by way of America, Children, Cinema, Last Words, Marriage, Politicians, Sex, and Taxes, it only takes a moment to find the perfect witticism, bon mot, or sage adage to suit
any occasion. Full of snappy one-liners and the world's greatest ideas, this stimulating volume ranges from the wisdom of the Bible, Shakespeare, and the great philosophers to the more modern meditations of Bona, J. K. Rowling, and George W. Bush. There is Yogi Berra's immortal The future ain't what it used to
be, Robert Louis Stevenson's Wine is bottled poetry, and Lao Tzu's A good traveler has no fixed plans. From literature to the law, music to the movies, readers will find an abundance of classic quotes and little known gems to enliven their speeches, conversation, reports and correspondence. And
to make this volume even easier to use, a full index allows readers to search the text by author as well as theme. The fifth edition has many new themes--including Africa, Facts, Honesty, India, Insight, Kissing, Persistence, Wisdom, Wit--and over 400 new quotations. Concise, convenient, authoritative, and affordable, The Little Oxford Dictionary of Quotations allows readers to keep a traveling data base of
entertainment and information right in their pocket. It's as handy as it is indispensable--the perfect reference for home, school, and office.

About the Author
---
Susan Ratcliffe is Associate Editor for Oxford Quotations Dictionaries, and has previously edited the Oxford Treasury of Sayings and Quotations and The Concise Oxford Dictionary of Quotations.