Voice Leading: The Science behind a Musical Art (Paperback)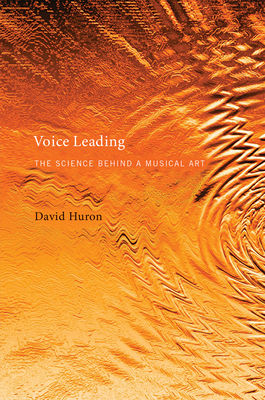 $40.50

We can usually get this book in 3 to 7 days, except during a pandemic. We are doing our best
(This book cannot be returned, even for store credit.)
Description
---
An accessible scientific explanation for the traditional rules of voice leading, including an account of why listeners find some musical textures more pleasing than others.
Voice leading is the musical art of combining sounds over time. In this book, David Huron offers an accessible account of the cognitive and perceptual foundations for this practice. Drawing on decades of scientific research, including his own award-winning work, Huron offers explanations for many practices and phenomena, including the perceptual dominance of the highest voice, chordal-tone doubling, direct octaves, embellishing tones, and the musical feeling of sounds "leading" somewhere. Huron shows how traditional rules of voice leading align almost perfectly with modern scientific accounts of auditory perception. He also reviews pertinent research establishing the role of learning and enculturation in auditory and musical perception.
Voice leading has long been taught with reference to Baroque chorale-style part-writing, yet there exist many more musical styles and practices. The traditional emphasis on Baroque part-writing understandably leaves many musicians wondering why they are taught such an archaic and narrow practice in an age of stylistic diversity. Huron explains how and why Baroque voice leading continues to warrant its central pedagogical status. Expanding beyond choral-style writing, Huron shows how established perceptual principles can be used to compose, analyze, and critically understand any kind of acoustical texture from tune-and-accompaniment songs and symphonic orchestration to jazz combo arranging and abstract electroacoustic music. Finally, he offers a psychological explanation for why certain kinds of musical textures are more likely to be experienced by listeners as pleasing.
About the Author
---
David Huron is Distinguished Professor in the School of Music and in the Center for Cognitive and Brain Sciences at the Ohio State University; he is author of Sweet Anticipation: Music and the Psychology of Expectation (MIT Press).
Praise For…
---
You do not have to be a musician or composer interested in the cognition of music to appreciate this book.—
Quarterly Review of Biology
—
Huron's book is a remarkable achievement, intertwining encyclopedic knowledge of auditory science with a deep understanding of voice-leading theory and practice. Fascinating and novel questions, insights, and perspectives fly like sparks from the pages. It is hard to imagine a reader who would not be provoked, engaged, or inspired by the breadth of his endeavor.
—
Journal of Music Theory
—
The greatest strengths of Voice Leading are both its extensiveness and its comprehensibility... Voice Leading is thus ideally suited for a broad audience lacking prior knowledge of empirical research on music perception, a convenient read for musicians, music theory scholars and teachers, and a general audience interested in music's psychological background.
—
Music Theory and Analysis
—
Huron has written a brilliant and eminently readable synthesis of decades of empirical work on the cognitive and auditory principles that underlie polyphonic compositional techniques. This book is an ideal entry point for musicians interested in the field of music cognition, as Huron carefully leads the reader through the process of investigating musical knowledge through scientific experiments.
—
Ian Quinn
, Professor of Music,
Yale University
—
Everyone, whether beginning college music students, experts in music theory and auditory science, or interested members of the general public, could find the book readable and interesting.
—
Journal of Music Theory
—
In this captivating book, David Huron provides a compelling account of the extraordinary capabilities and intricacies of the human auditory system, and how they are artfully navigated and exploited in the practice of multipart music composition. Drawing on over a half a century of interdisciplinary research on human audition, Huron demystifies and expands upon the traditional rules of voice leading, linking them to perceptual and cognitive principles freighted with rich aesthetic and evolutionary significance. This book is a revelation.
—
William Forde Thompson
,
Centre for Elite Performance, Expertise, and Training, Macquarie University
—
the historical commentary on musical composition throughout anchors the volume within a social context.
—
Kasey Fowler-Finn
,
Quarterly Review of Biology
—
David Huron, at Ohio State University, has pursued during his remarkable academic career a musicological study on voice leading from perceptual and cognitive standpoints, which he has now synthesized in a lucid book.
—
Gilberto Bernardes
,
Portugese Journal of Musicology
—
David Huron's book on voice leading is the state-of-the-art account of the psychological principles that govern the perception of individual voices in a piece of music.
—
Fabian Moss
,
Music Theory and Analysis
—