Operation Mincemeat: How a Dead Man and a Bizarre Plan Fooled the Nazis and Assured an Allied Victory (Paperback)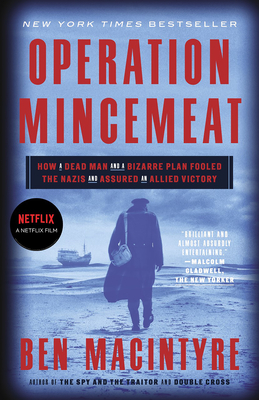 $18.00

We can usually get this book in 3 to 7 days, except during a pandemic. We are doing our best
Description
---
"Pure catnip to fans of World War II thrillers and a lot of fun for everyone else."—Joseph Kanon, Washington Post Book World
 
"Thrilling . . . What makes Operation Mincemeat so winning, in addition to Mr. Macintyre's meticulous research and the layers of his historcal understanding, is his elegant, jaunty, and very British high style."—Dwight Garner, New York Times

SOON TO BE A MAJOR MOTION PICTURE • NAMED ONE OF THE BEST BOOKS OF THE YEAR BY THE NEW YORK TIMES
 
Near the end of World War II, two British naval officers came up with a brilliant and slightly mad scheme to mislead the Nazi armies about where the Allies would attack southern europe. To carry out the plan, they would have to rely on the most unlikely of secret agents: a dead man.
 
Ben Macintyre's dazzling, critically acclaimed bestseller chronicles the extraordinary story of what happened after British officials planted this dead body—outfitted in a British military uniform with a briefcase containing false intelligence documents—in Nazi territory, and how this secret mission fooled Hitler into changing military positioning, paving the way for the Allies to overtake the Nazis.
About the Author
---
Ben Macintyre is a writer-at-large for The Times (U.K.) and the bestselling author of The Spy and the Traitor, A Spy Among Friends, Double Cross, Agent Zigzag, and Rogue Heroes, among other books. Macintyre has also written and presented BBC documentaries of his work.
Praise For…
---
"Here, finally, is the complete story with its full cast of characters (not a dull one among them), pure cathnip to fans of World War II thrillers and a lot of fun for everyone else."—Joseph Kanon, Washington Post Book World

"Brilliant and almost absurdly entertaining…The cast of characters involved in Mincemeat, as the caper was called, was extraordinary, and Macintyre tells their stories with gusto."—Malcolm Gladwell, The New Yorker

"OPERATION MINCEMEAT is utterly, to employ a dead word, thrilling. But to call it thus is to miss the point slightly in terms of admiring it properly….What makes OPERATION MINCEMEAT so winning, in addition to Mr. Macintyre's meticulous research and the layers of his historical understanding, is his elegant, jaunty, and very British high style."—Dwight Garner, New York Times

"Macintyre, whose previous book chronicled the incredible exploits of Eddie Chapman, the crook turned spy known as Zigzag, excels at this sort of twisted narrative….Great fun."—Jennet Conant, New York Times Book Review

"A nearly flawless true-life picaresque…zeroes in on one of the few times in war history when excessive literary imagination, instead of hobbling a clandestine enterprise, worked beyond its authors' wildest dream….Almost inedibly rich with literary truffles—doppelgangers, obsession, transgression, self-fashioning….It is hard to oversate how cinematic this story really was."—New Republic

"Another true WWII tale that reads like something by Ian Fleming….the fullest account yet."—Entertainment Weekly

"London Times writer-at-large Macintyre offers a solid and entertaining updating of WWII's best-known 'human intelligence' operation....[and] recounts [the] adventures and misadventures with panache."—Publishers Weekly

"[An] edge-of-your-seat history....unveiling previously classified files and even unearthing living witnesses to the grand conspiracy."
—Kirkus Reviews

"This retelling of a well-known part of World War II espionage history will appeal to military history buffs, especially those new to this particular episode, and to readers of adventure fiction, who will find it hard to put down."—Library Journal

"A terrific book….Students of the second world war have been familiar with Mincemeat for many years, but Macintyre offers a mass of new detail, and enchanting pen portraits of the British, Spanish and German participants. His book is a rollicking read for all those who enjoy a spy story so fanciful that Ian Fleming—himself an officer in Montagu's wartime department—would never have dared to invent it."—Max Hastings, The Sunday Times [London]

"A chillingly good book….Macintyre has taken a well-known story of wartime deception, embellished it, and shown that it was even more ingenious and even more risky than we had all supposed."—The Spectator

"Fascinating ... The complexities and consequences of the story that Macintyre tells in OPERATION MINCEMEAT are compelling – a tribute to his impressive abilities as a sleuth (ones that we've witnessed in his previous books) and to his capacities as a writer." —William Boyd, The Times [London]