God Help the Child (Vintage International) (Paperback)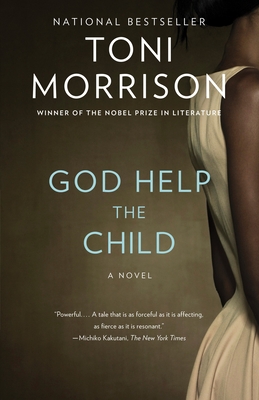 $14.95

On Our Shelves Now as of 24 Hours Ago. Call first to confirm.
Description
---
NATIONAL BESTSELLER • A New York Times Notable Book • This fiery and provocative novel from the acclaimed Nobel Prize winner weaves a tale about the way the sufferings of childhood can shape, and misshape, the life of the adult.

At the center: a young woman who calls herself Bride, whose stunning blue-black skin is only one element of her beauty, her boldness and confidence, her success in life, but which caused her light-skinned mother to deny her even the simplest forms of love. There is Booker, the man Bride loves, and loses to anger. Rain, the mysterious white child with whom she crosses paths. And finally, Bride's mother herself, Sweetness, who takes a lifetime to come to understand that "what you do to children matters. And they might never forget."
About the Author
---
Toni Morrison is the author of eleven novels, from The Bluest Eye (1970) to God Help the Child (2015). She received the National Book Critics Circle Award, the Pulitzer Prize, and in 1993 she was awarded the Nobel Prize in Literature. She died in 2019.
Praise For…
---
One of the Best Books of the Year: San Francisco Chronicle, St. Louis Post-Dispatch, Kansas City Star

"Powerful. . . . A tale that is as forceful as it is affecting, as fierce as it is resonant." —Michiko Kakutani, The New York Times

"A tragicomic jazz opera played out in four parts. . . . Morrison makes art from the cadences of human heartbreak." —The Atlantic

"Beautiful. . . . God Help the Child is superb, its story gliding along the tracks of Morrison's utterly assured prose." —USA Today

"Unflinching, gorgeously written." —San Francisco Chronicle

"Magnificent. . . . Morrison remains an incredibly powerful writer who commands attention no matter the story she is telling." —The Guardian (London)

"Sly, savage, honest, and elegant. . . . Once again, Morrison thrillingly brings the storytelling moxie and mojo that make her, arguably, our greatest living novelist." —Elle

"Exquisite. . . . Morrison has a Shakespearean sense of tragedy, and that gift imbues God Help the Child." —Newsday

"The Nobel Prize winner continues to create beauty from the anger and defining wounds of her characters. . . . Bears a lifetime's worth of anger and sorrow, distilled to their essences and fiercely hung onto, tooth and claw." —The Christian Science Monitor

"Glorious and incendiary." —The Philadelphia Inquirer

"There is a new urgency to Morrison's work, a desire to tell the story itself, without embellishment or ornamentation. . . . Morrison [is] the undisputed interpreter of the American black experience." —The Boston Globe

"Morrison gives us an unflinching look at the wounds that adults can inflict on children with life-altering consequences. . . . Few authors can deliver exquisitely written prose as Morrison." —Essence.com

"Haunting. . . . Moving. . . . Fearless. . . . God Help the Child yet again proves that Toni Morrison is an icon." —Bustle

"Both timely and timeless. . . . A pleasure. . . . As she shows with such brevity and eloquence in God Help the Child, having and healing don't necessarily happen at the same time." —The Seattle Times

"A book to be read twice at a minimum—the first time for the story, and the second time to savor the language, the gems of phrasing and the uncomfortable revelations about the human capacity both to love and destroy." —Pittsburgh Post-Gazette

"Breathtaking prose. . . . A new Morrison book is always cause for celebration." —The Dallas Morning News

"We have stepped into, once again, another of Morrison's fertile landscapes. . . . It is a blessing that she still speaks with such salvific force and poetic grace." —The Plain Dealer

"Heartbreaking. . . . [Morrison] continues to dazzle. . . . Morrison—like Bride—is still reinventing herself as a writer. And just getting better." —St. Louis Post-Dispatch