Rhythms of Renewal: Trading Stress and Anxiety for a Life of Peace and Purpose (Hardcover)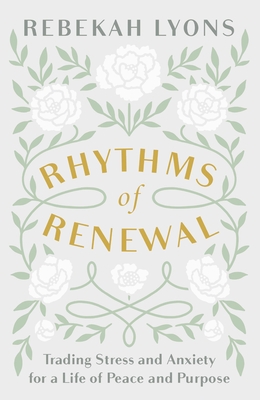 $25.99

We can usually get this book in 3 to 7 days, except during a pandemic. We are doing our best
Description
---
Your guide to daily rescue from stress and a way forward into the peace your soul longs for. Trade your anxiety for the vibrant life you were meant to live through four profound rhythms: rest, restore, connect, and create. Over 100,000 copies sold
As a society, we are in the throes of a collective panic attack. Anxiety and loneliness are on the rise, with 77% of our population experiencing physical symptoms of stress on a regular basis. We feel pressure chasing careers, security, and keeping up. We worry about health, politics, and many other complexities we can't control. Eventually we find our minds spinning, trying to cope or manage a low hum of anxiety, unlike ever before.
But it doesn't have to stay this way.
Rebekah draws from her own battle with depression and anxiety and shares a pathway to establish four life-giving rhythms that quiet inner chaos and make room for a flourishing life. By taking time to rest, restore, connect, and create, you will discover how to:
Take charge of your emotional health and inspire your loved ones to do the same
Overcome anxiety by establishing daily habits that keep you mentally and physically strong
Find joy through restored relationships in your family and community
Walk in confidence with the unique gifts you have to offer the world
It's the perfect read alongside the Rhythms for Life Planner and Journal to build each restorative rhythm into your daily routine. Plus, you can read with others as part of a Bible study or by yourself as part of your devotions with the Rhythms of Renewal video study and study guide.