The Time of Our Singing: A Novel (Paperback)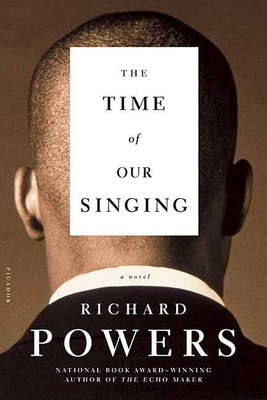 $25.00
On Our Shelves Now as of 24 Hours Ago
Description
---
A magnificent, multifaceted novel about a supremely gifted—and divided—family, set against the backdrop of postwar America

On Easter day, 1939, at Marian Anderson's epochal concert on the Washington Mall, David Strom, a German Jewish émigré scientist, meets Delia Daley, a young Philadelphia Negro studying to be a singer. Their mutual love of music draws them together, and—against all odds and better judgment—they marry. They vow to raise their children beyond time, beyond identity, steeped only in song. Jonah, Joseph, and Ruth grow up, however, during the Civil Rights era, coming of age in the violent 1960s, and living out adulthood in the racially retrenched late century. Jonah, the eldest, "whose voice could make heads of state repent," follows a life in his parents' beloved classical music. Ruth, the youngest, devotes herself to community activism and repudiates the white culture her brother represents. Joseph, the middle child and the narrator of this generation-bridging tale, struggles to find himself and remain connected to them both.

The Time of Our Singing is a story of self-invention, allegiance, race, cultural ownership, the compromised power of music, and the tangled loops of time that rewrite all belonging.
About the Author
---
Richard Powers is the author of several novels, including The Echo Maker (FSG, 2006), which won the National Book Award and was a finalist for the Pulitzer Prize. Powers has received a MacArthur Fellowship, a Lannan Literary Award, and the James Fenimore Cooper Prize for Historical Fiction. He lives in Illinois.
Praise For…
---
"A great hurtle of a book, telling several powerful stories at once...An astonishing performance...a prodigious, illuminating and exhilarating run."—The New York Times

"Ingenious...A heady, panoramic novel, scored, like so much of Powers's work, for full orchestra...One of our most lavishly gifted writers."—The New Yorker

"Richard Powers is a wonder...[The Time of Our Singing] is beautifully, meticulously crafted."—The New York Observer

"I can think of no American novelist of his generation who makes a stronger [case]—that the writing of novels is a heroic enterprise, and perhaps even a matter of life and death."—A. O. Scott, The New York Review of Books

"With his characteristic mastery of structure and language, Powers has orchestrated a story that...plays with bravura to the end."—People

"This is a novel God might relish and call enriching. Powers' heart-cry should win big prizes."—The Philadelphia Inquirer

"Powers is a genuine artist, a thinker of rare synthetic gifts, maybe the only writer working...who can render the intricate dazzle of it all and at the same time plumb its philosophical implications."—Sven Birkerts, Esquire

"One of the best novels ever written about race in America...one of the best written about the joys of music...A major novel, harrowing and haunting in blending such intense beauty and such great sorrow into one great, unforgettable American symphony."—Newsday

"A bold and vibrant set of variations on the themes of music, race and time...It is hard to think of another novel since Thomas Mann's Doctor Faustus that uses music so effectively and with such authority."—Chicago Tribune

"The Time of Our Singing is an astonishment but not a surprise...Richard Powers has been astounding us almost every other year since 1985...We can no longer be surprised about whatever he dares to think in ink about."—Harper's Magazine

"The Time of Our Singing is a fierce and passionate novel...splendidly imagined."—Gail Caldwell, The Boston Globe

"One of the most accomplished, most powerful novels of American life in the 20th century to come along in recent years...The Time of Our Singing is a high point that recalls some of the masterful sagas of American families produced by our best contemporary novelists in recent years."—The Post-Distpatch (St. Louis)

"The best black novel to appear in America since Beloved has just been written by a white man."—The Christian Science Monitor

"No reader will come away from it unchanged."—The Washington Times

"Hugely impressive."—Entertainment Weekly

"In a time when our literature remains shockingly segregated and self-absorbed, Powers has again achieved a triumphant synthesis."—Elle

"No writer committed to bridging the worlds of science and fiction has produced so formidable and complex a body of work."—Rosellen Brown, The New Leader

"Powers' most emotionally engaging, stylistically accessible and culturally aware novel."—Book Magazine

"The power of music in its relation to a racially divided family and culture is dramatized with unprecedented brilliance in this panoramic novel...[with] verbal agility, depth of characterization, and historical and social range, and propulsive readability...The most accessible, and powerful fiction yet from a major American writer who, against all odds, just keeps getting better."—Kirkus Reviews (starred review)

"Powers' celebrated intellect is fully evident in this sweeping story as he forges unlikely connections between race and physics, music and time. But behind Powers' intimidating brain is a heart too often overlooked, and even as the narrative artfully switches tenses and folds back upon itself (reflecting the knotted shape of time), this remarkable novel sings from its tortured soul as much from its polyphonic mind."—Booklist (starred review)