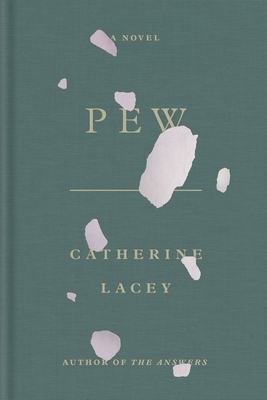 $26.00
On Our Shelves Now as of 24 Hours Ago
Description
---
Longlisted for the 2021 Andrew Carnegie Medal for Excellence in Fiction and the Joyce Carol Oates Prize. One of Publishers Weekly's Best Fiction Books of 2020. One of Amazon's 100 Best Books of 2020.

The people of this community are stifling, and generous, cruel, earnest, needy, overconfident, fragile and repressive, which is to say that they are brilliantly rendered by their wise maker, Catherine Lacey. --Rachel Kushner, author of The Flamethrowers

A figure with no discernible identity appears in a small, religious town, throwing its inhabitants into a frenzy

In a small, unnamed town in the American South, a church congregation arrives for a service and finds a figure asleep on a pew. The person is genderless and racially ambiguous and refuses to speak. One family takes in the strange visitor and nicknames them Pew.

As the town spends the week preparing for a mysterious Forgiveness Festival, Pew is shuttled from one household to the next. The earnest and seemingly well-meaning townspeople see conflicting identities in Pew, and many confess their fears and secrets to them in one-sided conversations. Pew listens and observes while experiencing brief flashes of past lives or clues about their origin. As days pass, the void around Pews presence begins to unnerve the community, whose generosity erodes into menace and suspicion. Yet by the time Pews story reaches a shattering and unsettling climax at the Forgiveness Festival, the secret of who they really area devil or an angel or something else entirelyis dwarfed by even larger truths.

Pew, Catherine Laceys third novel, is a foreboding, provocative, and amorphous fable about the world today: its contradictions, its flimsy morality, and the limits of judging others based on their appearance. With precision and restraint, one of our most beloved and boundary-pushing writers holds up a mirror to her characters true selves, revealing something about forgiveness, perception, and the faulty tools society uses to categorize human complexity.
About the Author
---
Catherine Lacey is the author of Nobody Is Ever Missing, winner of a 2016 Whiting Award and finalist for the Young Lion's Fiction Award, and The Answers. In 2017, she was named one of Grantas Best Young American Novelists. Her essays and fiction have been published widely and translated into Italian, French, Dutch, Spanish and German. She was born in Mississippi and is based in Chicago.
Praise For…
---
"Unsettling, mundane, and funny, Laceys fictions sometimes read as if characters let loose from Beckett were wandering through a recognizable, even realist landscape . . . [Pew is] the logical and relentless development of this bold young writers previous work . . .Pew is a brave book, in both concept and execution. These days, few writers would venture a novel structured around an almost mute enigma . . . [Pew] throws down a challenge to our readerly hospitality." --James Wood, The New Yorker

"Marvelously elusive . . . I have thought about characterizing it as a work of Southern Gothic in the vein of Flannery OConnor, as a political-religious fable reminiscent of Margaret Atwood, as a Shirley Jackson-esque piece of small-town horror, and even as a sly update on Mark Twains great story 'The Mysterious Stranger.' Each comparison seems right from certain angles and insufficient from others. Like its ambiguous title character, the novel resists definition . . . I began to see Pew as an incarnation of the towns purged memoriesa passive, shapeless presence loaded with a million projected meanings that, much like this book, you could spend a lifetime decoding." --Sam Sacks, The Wall Street Journal

"Catherine Lacey, a fiction wunderkind who writes with dynamite, has recreated herself, and our ideas about what novels can do, yet again." --Vulture

"Potent -- and timely . . . Lacey is a gifted writer, on par with the best of horror writers at ratcheting up tension . . . Lacey makes a strong case against the human desire to size up and categorize the people we meet." --Patty Rhule, USA Today

"Told in Pews spare, elegiac voice, Laceys third novel is an ambitious story of compassion, cruelty, and belonging, as well as a powerful exploration of the dangers posed by white guilt and institutionalized religion." --Adrienne Westenfeld, Esquire

"The most impressive feat Lacey has accomplished in her newest novel is the ambitious construction of the narrator . . . a work that evokes the same presumptions and privileges in the reader as it does in its characters particularly those of the townsfolk . . . For anyone who values literature that tests commonly held standards regarding what a character should be and how they are developed, this is a book not to be missed. Its success at pushing beyond preconceived ideas about a characters identity and narratorial credence will be discussed among writers for years to come." --Ryan Smernoff, Los Angeles Review of Books

"Lacey works at the provocative end of contemporary American fiction, and Pew is her sharpest novel yet: a tale of the quiet savagery of good intentions, and the tyranny and ecstasy of belonging . . . . There is a fallen-to-Earth quality about Laceys amnesiac, androgynous confidante: part space alien, part unwitting, or unwilling, messiah; a kind of ethereal cultural anthropologist." --Beejay Silcox, TLS

"Laceys fourth novel is splendid beautifully written and pleasingly concise, with an eerie atmosphere somehow perfect for times in which, as one character remarks, 'everything is just so strange lately' . . . All this ambiguity might sound exasperating to readers as well. Its not. . . I cant over-emphasise how sweetly, swiftly and entertainingly this book proceeds, or how exquisitely the prose is crafted on every page." --Lionel Shriver, Financial Times

"Though the broad strokes might seem familiar, at every turn Lacey resists conventional developments . . . Whats most impressive is Laceys restraintlike Pew, she remains an observer, withholding judgment without sparing any detail. A fabulist tale with no prescribed moral, Pew has the thrum of a foreshock, setting the reader on edge with the unlikely omens of hospitality and attrition." --Danette Chavez, A.V. Club

"This modern fable, written from and for an America consumed by identity politics, illustrates just how deeply embedded the impulse toward othering runs in this country . . . This highly disassociated relation between Pew and their body produces some of the most stirring, beautiful sentences in the novel while chipping away at societys compulsion to organize itself according to how our bodies look." --Connor Goodwin, Seattle Times

"[A] puzzle of a novel . . . Lacey has always been an economical writer, and she is as taut as shes ever been here . . . These monologues make sections of the book read like Rachel Cusks Outline trilogy blended with the creeping unease of Ari Asters horror film Midsommar . . . it is within [Pew's] messier reaches, and its concerns with inequality and prejudice, that its boldest and most brilliant effects are found." --Chris Power, The Guardian (Book of the Day)

"It needs authorial guts to write a novel in which details are shrouded, meaning is concealed and little is certain. Step up Catherine Lacey, and welcome. . . . Theres a whiff of Shirley Jackson in the air . . . [Pew is] ultimately intriguing. It keeps you thinking, and you cant ask for much more than that." --John Self, Spectator (London)

"Powerful . . . [a] rich, enigmatic novel." --Anthony Cummins, The Observer (London)

"An alarmingly discomfiting, sublimely written novel . . . Pew is a masterpiece of misdirection . . . This is a novel about preconception, moral blindness and the long fingers of guilt." --Stuart Kelly, The Scotsman

"Pew is muted and opaque, the prose spare and clean, the story told with the disaffected eye of a documentarian . . . Pew, in focusing on the big issues of the day race, gender, and immigration compels us to pause, reflect, and then interrogate our own hard-wired beliefs and prejudices." --Ian Mond, Locus

"[A] haunting fable about morality and self-delusion . . . Laceyspare and elegant as evercreates a story that feels at the same time mythological and arrestingly like life. Darkly playful; a warning without a moral." --Kirkus (starred review)

"An ambitious, powerful fable of identity and belief . . . Laceys talent shines in this masterful work, her best yet." --Publishers Weekly (starred review)

"Lacey's quietly provocative novel is brilliantly composed. She shines a light on the complexity of humans and the dangers of judging and categorizing others based on appearance, as Pews ambiguity reveals the true nature of her characters." --Booklist

A stranger comes to town, and takes us with them into their estrangement among the denizens of a conservative religious community. The people of this community are stifling, and generous, cruel, earnest, needy, overconfident, fragile and repressive, which is to say that they are brilliantly rendered by their wise maker, Catherine Lacey. --Rachel Kushner, author of The Flamethrowers

The mercurial and electric Catherine Lacey has now conjured up an of-the-moment fable of trauma and projection one part Kaspar Hauser, one part James Purdy, and one part Rachel Cusk. The pages shimmer with implication. --Jonathan Lethem, author of The Feral Detective

I consumed Pew. It is the electric charge we need. --Daisy Johnson, author of Everything Under