The Seine: The River that Made Paris (Paperback)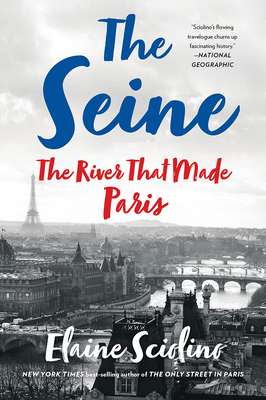 $17.95

On Our Shelves Now as of 24 Hours Ago. Call first to confirm.
Description
---
An American Library in Paris "Coups de Coeur" Selection

A Los Angeles Times Bestseller



"Elaine Sciolino is a graceful, companionable writer.… [She] has laid one more beautiful and amusing wreath on the altar of the City of Light." —Edmund White, New York Times
Blending memoir, travelogue, and history, The Seine is a love letter to Paris and the river that determined its destiny. Master storyteller and longtime New York Times foreign correspondent Elaine Sciolino explores the Seine through its lively characters—a bargewoman, a riverbank bookseller, a houseboat dweller, a famous cinematographer—and follows it from the remote plateaus of Burgundy through Paris and to the sea. The Seine is a vivid, enchanting portrait of the world's most irresistible river.
About the Author
---
Elaine Sciolino is a contributing writer and former Paris bureau chief for the New York Times. She is the author of the New York Times bestseller The Only Street in Paris. She has lived in Paris since 2002.
Praise For…
---
Sciolino's flowing travelogue churns up fascinating history.
— National Geographic

Engaging and informative.… [Elaine] Sciolino so vividly captures [the magic of Paris].… As Sciolino's touching storytelling illustrates, the Seine is more than just a body of water.
— Esme O'keeffe - Times Literary Supplement

A couple of times a year, a book just simply stops you in its tracks. That was the case with The Seine.… Elaine Sciolino… absolutely nailed the image of how we see this river through Paris.

— Tom Keene - Bloomberg News

Sciolino, a longtime American in Paris… takes us along in an engaging travelogue/memoir tracing the Seine's 483 miles from its source to the sea.… Readers will enjoy Sciolino's expansive take on the Seine's role in the history and culture of France.
— Maureen McCarthy - Star Tribune

Sciolino writes as a river flows and as Matisse and Monet painted—with beauty, ease and grace.… It is her love letter to the Seine.
— Erik Brady - Buffalo News

Elaine Sciolino manages to be both hard-nosed reporter and hopeless romantic.… [She] has written a wonderful book.
— Warren Levinson - Associated Press Get Outta Here! podcast

Sciolino helps us fathom the river that defines Paris.… She brings us a fresh way to talk about the Seine.
— Rick Steves - Travel With Rick Steves podcast

[Sciolino] shares her love affair with Paris and the Seine with enchanting anecdotes and insights.… Francophiles will adore this book, and others may become Francophiles as they read.
— Kirkus Reviews (starred review)

Written in an enjoyable journalistic style, the book is both a travelog and a cultural history of not only the river itself but the people who have lived, worked, and taken inspiration from it.… For readers who have walked along the banks of the Seine or dream of someday doing so, this love letter to a river is highly recommended.
— Library Journal (starred review)

The Seine: The River that Made Paris is enlightening not only for detailing the ways that, without the Seine, there'd be no Paris as we know it but for its descriptions of the Seine upriver and downriver from the capital, from Burgundy to Le Havre.

— Arnie Weisman - Travel Weekly