A Basic Guide to Fair Housing Accessibility: Everything Architects and Builders Need to Know about the Fair Housing ACT Accessibility (Paperback)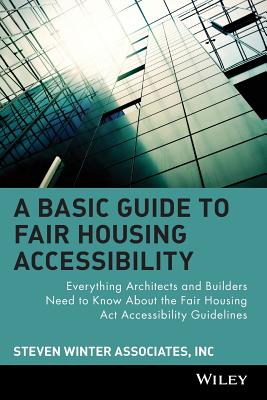 $97.50

We can usually get this book in 3 to 5 days, except during a pandemic. We are doing our best
(This book cannot be returned, even for store credit.)
Description
---
The guide that takes the guesswork out of Fair Housing Act Accessibility Guidelines conformance

The Federal government is stepping up its enforcement of the Fair Housing Act Accessibility Guidelines, and failure to comply with these guidelines can result in a complaint for discriminatory housing practice. A Basic Guide to Fair Housing Accessibility enables building professionals to avoid these charges with clear, concise interpretations of the Guidelines and descriptive illustrations of proper conformance.

Inspired by the author's HUD-sponsored review of nearly 400 built projects, this compact yet comprehensive guide reviews the guidelines for conformance with the seven basic design and construction requirements of the Fair Housing Amendments Act, from accessible building entrances to usable kitchens, and points out common conformance errors made by architects, builders, and developers.

This practical, easy-to-follow handbook:
* Demystifies accessibility guidelines and reduces the risk of litigation
* Explains which buildings and units are covered by the law
* Provides a compliance checklist for multifamily housing design and construction


Featuring only the facts and technical guidance needed to help ensure conformance with the Guidelines, A Basic Guide to Fair Housing Accessibility is an indispensable resource for architects, builders, contractors, site engineers, and developers who need to know that their work is in conformance with Federal guidelines.
About the Author
---
STEVEN WINTER ASSOCIATES, INC., is an architectural research firm whose expertise contributes to making buildings more energy efficient, affordable, accessible, and sustainable. The firm has offices in Norwalk, Connecticut and Washington, D.C.