A Backlash Reckoning: Why We Need a Green New Deal to Protect Civil Society and Life on Earth (Paperback)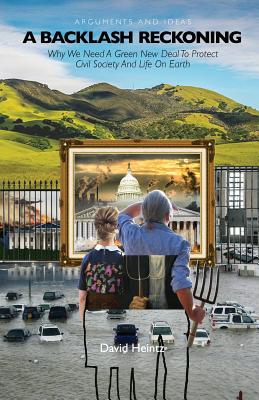 $14.99
We can usually get this book in 3 to 5 days, except during a pandemic. We are doing our best
Description
---
The Climate Crisis is the most urgent part of a wider and deeper global environmental disaster. It is an existential threat to humanity. But it's not an isolated crisis: it must be seen as the most prominent symptom of a systemic failure of major systems in the US - of politics and economics, of information and education about history, energy, and science, even society and psychology. And despite slowly rising awareness, we are doing next to nothing about it, as we face a crucial tipping point, the triggering of an irreversible spiral of global heating.
The problem is illuminated in a broad and comprehensive yet readable manner. It's based on the idea that we have to notice and observe, then connect a lot of dots, in order to see and recognize the larger pattern.
The crisis results from our abuse of fossil-fueled power, combined with those other failures. So it will help to observe the role of Power, in all its forms, in our lives. This crisis represents what one think tank calls "a conceptual emergency." It says the world we have created is so complex and fast-moving that it defies our ability to understand or control it. So, the author argues, we need a widespread shift in consciousness, a political/economic revolution, and a coordinated global effort, if we are to leave our children with a remotely inhabitable Earth.
The entire human family needs to fundamentally change our thinking to imagine the simple, radical but feasible solution that is still possible - a combined political and economic revolution, in a race against time.