Cowboy Boots: The Art & Sole (Hardcover)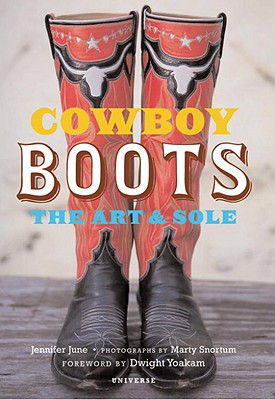 $9.98

On Our Shelves Now as of 24 Hours Ago. Call first to confirm.
Description
---
An homage to the beloved and ubiquitous American icon, written by the country's leading expert on cowboy boots past and present. Jennifer June, a custom cowboy boot maker, takes the reader through the diverse history of the boot, from the early days prior to 1930 to the modern twists on traditional styles popular a century down the line. Cowboy boots are the most emblematic of American fashion icons, repositories of western tradition and symbols of the strength and endurance of true American style. In recent times, cowboy boots have become permanent fixtures of the fashion world and of Hollywood westerns. Beautifully illustrated, this book presents the definitive perspective on the changing roles and various styles of the most enduring American footwear.
About the Author
---
Jennifer June is America's best-known expert on cowboy boots and the owner of Big Star Boots in Oakland, California. Marty Snortum is a nationally recognized photographer and co-owns Rocketbuster Boots. Dwight Yoakam is a Grammy-winning country musician and actor who is never without his cowboy boots.