Roots: The Definitive Compendium with more than 225 Recipes (Hardcover)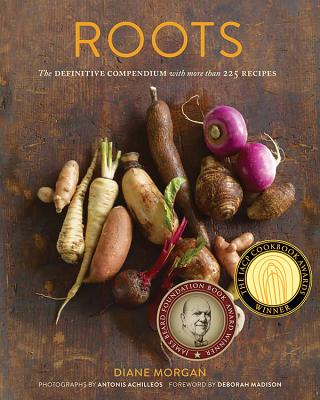 $42.00

Special Order -- These books can be hard for us to get
Description
---
From the author of more than 10 cookbooks comes this comprehensive guide and collection of recipes using root vegetables. Discover the fascinating history and lore of 29 major roots, their nutritional content, how to buy and store them, and much more, from the familiar (beets, carrots, potatoes) to the unfamiliar (jicama, salsify, malanga) to the practically unheard of (cassava, galangal, crosnes). The best part? More than 225 recipes—salads, soups, side dishes, main courses, drinks, and desserts—that bring out the earthy goodness of each and every one of these intriguing vegetables. From Andean tubers and burdock to yams and yuca, this essential culinary encyclopedia lets dedicated home cooks achieve a new level of taste and sophistication in their everyday cooking.
About the Author
---
Diane Morgan is an award-winning teacher, cookbook author, and freelance food writer. She lives in Portland, Oregon.

Antonis Achilleos is a New York–based food photographer.

Deborah Madison is an award-winning cookbook author and writes articles on cooking, food, and farming.
Praise For…
---
"Roots" also comes out at a time when there is an explosion of interest in vegetable cookery, including at the high end. David Kinch at Manresa in Los Gatos, Calif., is probably the first American fine-dining chef to make his reputation based on his vegetable cookery. Morgan, like Kinch, takes a kind of nose-to-tail approach to vegetables, using not just rarer varieties but parts of the vegetable that are often discarded: the tops of the carrot, beet stems, parsnip and turnip leaves. . . . Besides using little-known roots like salsify and parsley root, which Morgan points out was a staple of 19th-century cookbooks, "Roots" also brings back some other vanished elements of pre-modern foodways, such as the root cellar. . . . it occurred to me that widespread change in food quality doesn't come from restaurants but from educated, passionate and demanding home cooks. Diane Morgan and her remarkable cookbook are vital instruments of that change." - Chef John Broening, The Denver Post

Winner, IACP Cookbook Award 2013 - Single Subject

Winner, James Beard Foundation Cookbook Award 2013 - Vegetable Focused and Vegetarian

"Diane throws open the doors of the root cellar and shines a strong beam of light on this subterranean wonderland. From burdock and beets to rutabagas and radishes (and beyond), she works through this often overlooked realm with inspired recipes and illuminating reference material. The word that keeps coming to mind: finally! - a book that helps me understand the real potential of these culinary outliers." -- Heidi Swanson, author of Super Natural Every Day and 101Cookbooks.com

"In this vividly illustrated encyclopedia of, and paean to, everything from Andean tubers to wasabi, Diane Morgan makes a strong case for the delightful possibilities of this vastly underrated class of vegetables. Her lore is fascinating and her passion for her subject is nothing less than inspiring." -- Colman Andrews, editorial diretor of The Daily Meal.com and author of The Country Cooking of Italy

"Diane Morgan's latest book illuminates the culinary underworld in the most marvelous way, allowing roots, rhizomes, tubers, and corms to bask in the limelight. Diane's kitchen prowess elevates lowly root vegetables to (well-deserved) exalted menu status. While lotus root, tubers, and yams are staples in my own Japanese kitchen, mostly for savory dishes, thanks to Diane, I discovered the sweet wonders of Lotus Root Upside-Down Cake and the piquant pleasures of purple potatoes with smoked trout. Kansha, appreciation, in equal measure for natures hidden underground treasures...and for Diane's insatiable curiosity and literary diligence that created this tasty tribute to the edible underworld." --Elizabeth Andoh, author of KIBO ("Brimming with Hope"): Recipes & Stories from Japan's Tohoku

"Diane Morgan has written a masterful book about root vegetables."-- Deborah Madison, author of Vegetarian Cooking for Everyone

"Diane Morgan has done the impossible. She has transformed the subject of root vegetables into an extraordinary reference book and brought them deliciously to life with irresistible recipes. This is a must for any cook who wants to expand their culinary horizons and navigate the fascinating world of root vegetables with confidence." -- Grace Young, author of Stir-Frying to the Sky's Edge

"Diane Morgan demonstrates that looks aren't everything, especially when it comes to root vegetables. From burdock and crosne to salsify and yuca, Morgan's recipes curry favor with taste buds that are open to culinary adventures. Her dedication frees the way for a deeper appreciation of some of the most underappreciated ingredients we know. Thankfully, many of the starring vegetables can be found at the farmers' market, local grocery store, or ethnic markets." - Epicurious, The Best Cookbooks of 2012

"Any cookbook with 11 recipes for radishes, and the same number for wasabi, has got to be pretty complete. How about Roasted Turnip Ghanoush? Three-layer Parsnip Cake with Cream Cheese Frosting? Microbrew-braised rutabagas? Or dishes made with unfamiliar roots like crosne, malanga or arrowhead? It makes us happy that autumn is finally here." - Shelf Awareness

" . . . that is what a cookbook should be: a guidebook, a resource.. The kind of thing you can go to again and again and again. Not because you loved one recipe, but because no matter how many times you read it, you'll always learn something new. That is what I discovered in Roots: The Definitive Compendium with more than 225 Recipes . . . it hit all of my cookbook expectations. It's a resource (and a good one at that), the photos are beautiful but the recipes aren't over dominated by them, the story is personal, and in reading it, you get a lesson in food. For example, I had no idea that carrots are believed to have originated in Afghanistan." - Anna Brones, Huffington Post