Deep Cuba: The Inside Story of an American Oceanographic Expedition (Paperback)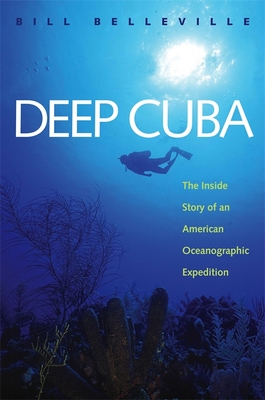 $24.95

We can usually get this book in 3 to 7 days, except during a pandemic. We are doing our best
Description
---
Geography, politics, and other factors have allowed Cuba to preserve the region's most pristine coast and offshore marine environment. Deep Cuba recounts Bill Belleville's month-long journey around the island in the company of American and Cuban marine biologists and a Discovery Channel film crew. It was the first, and so far only, United States submersible research expedition in Cuban waters. From coral reefs to mangrove swamps to a submerged volcanic mountain, the voyagers encountered sublimely wild places unseen before by anyone from the United States--or even by many Cubans.
Belleville conveys the tempo of the scientists' workday, during which the routine gathering of data and specimens could be punctuated by trips in a state-of-the-art submersible, the discovery of new species, or a tropical storm. Throughout the trip, as well, all on board had to work through differences that arose from the expedition's contrary goals: to produce a commercially viable seagoing adventure film and to conduct controlled, methodical scientific investigations. Belleville paces his coverage of the expedition with absorbing stories about the history and culture of the island's peoples, from the indigenous Taino to its current inhabitants of African and European heritage.
Deep Cuba
even includes a candid portrait of Castro himself. An avid diver, sport fisherman, and naturalist, El Comandante paid a visit aboard the research vessel.
Deep Cuba
is an engaging mix of nature and travel writing, along with scientific reportage that is keenly attuned to current crises in research funding. Revealed here is a magnificent marine world with crucial ecological links to the Caribbean Basin and the southeastern United States.
About the Author
---
Bill Belleville, an award-winning environmental journalist and filmmaker, is also a veteran diver. His books include "River of Lakes" and "Deep Cuba" (both Georgia). His articles, which have appeared in such publications as "Sierra Magazine," "Oxford American," "Islands," and "Salon," have been anthologized in six other collections. Belleville lives in Sanford, Florida.
Praise For…
---
"Engaging . . . Environmental journalist and diver Belleville works hard to achieve a documentary-maker's dream: exciting a broad public empathy for a place and its creatures."--Kirkus Reviews

"Rank[s] with the best travel writing . . . Deep Cuba will appeal to a wide range of readers: armchair travelers, recreational divers, naturalists and anyone curious about Castro and the Caribbean's largest island."--Orlando Sentinel

"[A] fascinating and easily absorbed account . . . Belleville is an articulate and skilled advocate and we should all pay attention to what he has seen."--Rosalind Brackenbury, Solares Hill

"[A] riveting account of a six-week expedition aboard the Harbor Branch vessel, Seward Johnson."--Vero Beach Journal

"A fascinating dive into two worlds: the undersea kaleidoscope where mysterious creatures make their home, and the politics and culture of a scientific expedition. Belleville is an astute observer and a great companion. If you can't personally explore the waters of Cuba or meet Fidel, you should sail along with the crew of the R/V Seward Johnson."--Jan DeBlieu, author of Hatteras Journal

"Deep Cuba provides a side of Cuba that's missing from most of the contemporary books and articles on the island."--The Lakeland Ledger

"Deep Cuba makes an eloquent argument for deep sea diving, scientific inquiry, and ending the embargo. I learned something new on every page."--Tom Miller, author of Trading with the Enemy: A Yankee Travels through Castro's Cuba