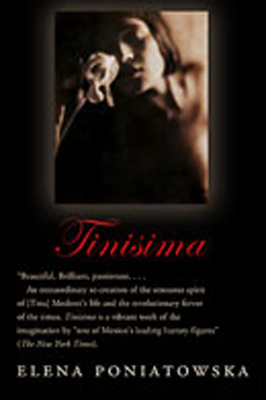 $19.95
We can usually get this book in 3 to 5 days, except during a pandemic. We are doing our best
Description
---
For this fictionalized account of the life of Tina Modotti (1896-1942), Elena Poniatowska devoted ten years of research to fully understand the woman who was so caught up in the social and political turbulence of the pre-World War II decades.
At different times in her life, Modotti was a silent screen actress, a model for Diego Rivera's murals, and a lover of photographer Edward Weston. She was also a champion for the Mexican people who lovingly referred to her as Tinisima.
In 1929, Modotti was accused of the murder of Julio Antonio Mella, her Cuban lover. She fled to the U.S.S.R. to escape the Mexican press and then to Europe, where she became a Soviet secret agent and a nurse under an assumed name, returning to Mexico to meet an early death at the age of forty-five.
Poniatowska has made an art form of blending journalism and fiction. She tells this novel in an urgent present tense, segueing among short, vivid scenes with cinematic virtuosity. Ten years of research and a thorough knowledge of the currents of history contribute to this portrait, but equally important is Poniatowska's intuitive appreciation of a woman shaped and destroyed by her tumultuous times.--Publishers Weekly
Poniatowska's profoundly moving evocation of her heroine's boundless soul flows like blood through the carefully erected factual structure of the real Modotti's astonishing life story. . . . A tour de force, Tinisima is a work to treasure.--Booklist