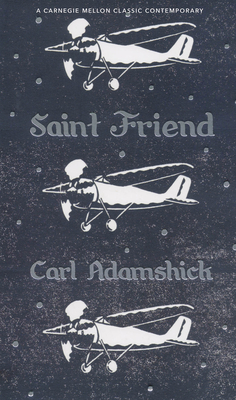 $16.95

On Our Shelves Now as of 24 Hours Ago
Description
---
These are the people we are. Saint Friend, / carry me when I am tired and carry yourself. / Let's keep singing the songs we don't live by / let's meet tomorrow.
 
Saint Friend is a book of empathy. Its ten lyric poems are troubled with the prospect of satisfying the wants and needs of others.  While some of the poems take place in realistic settings or concern real people—an airport, Amelia Earhart—this is a book where fantasy and reality are ultimately indistinguishable. SaintFriend is also a book about how we continue living while overwhelmed by loss and how we band together to survive. It is a freewheeling explosion of celebrations, elegies, narratives, psychologically raw persona pieces. It is at times bizarre and at times heartbreaking. It is, as the title suggests, a book exalting love among friends in our scattered times.
About the Author
---
Carl Adamshick lives in Portland, Oregon, where he is cofounder and editor of Tavern Books, a nonprofit poetry press dedicated to the preservation of books and book culture. He is the author of Curses and Wishes.
Praise For…
---
"Adamshick's way of glancing aside can hit you like a truck. Life can do that, too, and these poems are wired deep into the velocity and weight of existence."
— Patton Oswalt

"There is so much empathy in Adamshick's Saint Friend—for the reader, for his multivoiced characters, for the poetic form itself—that it seems the lines are not enough to contain its self-aware effusiveness. Luckily for us, we are not expecting them to. In his second poetry collection, Adamshick rampantly pushes forward the way emotion is neatly received, and displays how thoughts can jumble, jostle, and cross each other with expressive sureness."
— The Rumpus

"I love the range of Adamshick's spirit—there's rootedness and flux here, exuberance and a whispered entanglement with mystery. What an expansive wish this poet makes for all of us—that we feel connected in the deepest way to what we wonder and believe."
— Bob Hicok, author of Elegy Owed

"This poet is weird. I mean, thank God. Weird and comic. After all, 'Once, I applied / to be a horse.' But Adamshick's arresting images and loonier tunes are like sparks given off by wheels that turn our mourning, our confusions, our tenderness—and so ultimately these are poems of great substance, powered by great love. I applaud Saint Friend."
— Albert Goldbarth, author of Saving Lives

"Saint Friend is a book of a rare order, and the opening poem might be one of the finest long poems of our contemporary period. Adamshick's poetic mastery seeks, at every turn, to be humane, to be pure in its sayings, its questions, its manifold varieties of honesty."
— Katie Ford, author of If You Have to Go