Elegiac (The Cox Family Poetry Chapbook Series) (Paperback)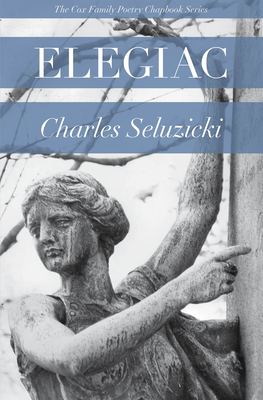 $10.00
Special Order -- These books can be hard for us to get
Description
---
A chapbook of 11 personal elegies in a classical style.

Elegiac by Charles Seluzicki is the first volume in the Cox Family Poetry Chapbook Series from Carnegie Mellon University Press. It is a collection of eleven elegies that remembers and celebrates the lives of lost friends of the poet. Seluzicki's poems are classical in style and seek to engage in conversation with the dearly departed in an intimate and convincing sequence.
About the Author
---
Charles Seluzicki is an antiquarian bookseller and fine press publisher based in Portland, Oregon.
Praise For…
---
"In his uncompromisingly intelligent and humane book of poems Elegiac, Charles Seluzicki has delivered a late-breaking heartfelt and startlingly beautiful book of poems that seeks to remember and celebrate the lives of dear ones lost to him. These poems are open and electric. They strike sparks." —Michael Dickman, author of Days & Days

"In these days of grandstanding and outright mendacity, we stand in need of clear and honest voices. Seluzicki's Elegiac sequence, opening with three quiet poems of welcome to Thanatos, celebrates a constellation of lost friends, still engaged in conversation. The exchanges are intimate, convincing, and evoked in surprising details: the 'Wind-fallen fruit sweetening / the air,' the 'graver poised on endgrain,' the 'dust in a poor man's purse.' Undaunted by death, these friendships continue defiantly, full of life and light." —Paul Merchant, author of Some Business of Affinity

"In his uncompromisingly intelligent and humane book of poems Elegiac, Charles Seluzicki has delivered a late-breaking heartfelt and startlingly beautiful book of poems that seeks to remember and celebrate the lives of dear ones lost to him. These poems are open and electric. They strike sparks."
— Michael Dickman, author of Days & Days

"In these days of grandstanding and outright mendacity, we stand in need of clear and honest voices. Seluzicki's Elegiac sequence, opening with three quiet poems of welcome to Thanatos, celebrates a constellation of lost friends, still engaged in conversation. The exchanges are intimate, convincing, and evoked in surprising details: the 'Wind-fallen fruit sweetening / the air,' the 'graver poised on endgrain,' the 'dust in a poor man's purse.' Undaunted by death, these friendships continue defiantly, full of life and light." 
— Paul Merchant, author of Some Business of Affinity