Stories for Boys (Paperback)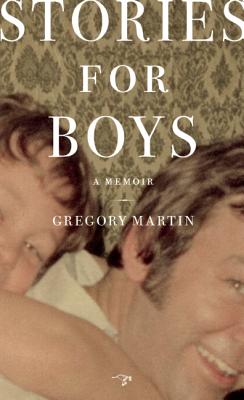 $16.95

We can usually get this book in 3 to 7 days, except during a pandemic. We are doing our best
Description
---
In this memoir of fathers and sons, Gregory Martin struggles to reconcile the father he thought he knew with a man who has just survived a suicide attempt; a man who had been having anonymous affairs with men throughout his thirty-nine years of marriage; and who now must begin his life as a gay man. At a tipping point in our national conversation about gender and sexuality, rights and acceptance, Stories for Boys is about a father and a son finding a way to build a new relationship with one another after years of suppression and denial are given air and light.

Martin's memoir is quirky and compelling with its amateur photos and grab-bag social science and literary analyses. Gregory Martin explores the impact his father's lifelong secrets have upon his life now as a husband and father of two young boys with humor and bracing candor. Stories for Boys is resonant with conflicting emotions and the complexities of family sympathy, and asks the questions: How well do we know the people that we think we know the best? And how much do we have to know in order to keep loving them?
About the Author
---
Gregory Martin is the author of "Mountain City, " a memoir of the life of a town of thirty-three people in remote northeastern Nevada, which received a Washington State Book Award, was named a New York Times Notable Book of the Year, and is referred to by some people in Mountain City as "the book." Martin's work has appeared in "The Sun, Kenyon Review Online, Creative Nonfiction, Storyquarterly, " and "Orion." He teaches creative writing at the University of New Mexico. He lives in Albuquerque with his wife and two sons.
Praise For…
---
Praise for Stories for Boys:

"With clean vivid descriptions, and ruthless soul-wrenching self examination, Greg Martin bravely tells a story he never imagined having to tell. The reader is privileged here, to be allowed to watch as he wrestles with his sons, his own belief systems, his urge toward forgiveness and even Walt Whitman. This finely made, deeply felt memoir restores our faith in the power of language and story to make sense of a broken world." PAM HOUSTON, author Contents May Have Shifted

"Stories for Boys is a charming and moving coming-of-age story, its narrator situated in the pivotal position between being his father's son and his sons' father. So refreshing and unique is Martin's treatment of the material that the reader will never mistake this book for its inferior competitors dealing with similar subjects (suicide, latent homosexuality, child abuse). One hopes this is the new wave of memoir: stories of people whose lives are not easily categorized nor dismissed. It is a sweet read." ANTONYA NELSON, author of Bound

"Gregory Martin's Stories for Boys is a magnetic meditation on what happens when a decades-long lie is brutally revealed. Moving, brave, and unforgettable, this deeply personal book pushes us all further into the light." CHERYL STRAYED, author of Wild

Praise for Mountain City: A Memoir:
New York Times Notable Book of the Year, 2000
Library Journal, Best Books of 2000
Seattle Post-Intelligencer, Best Northwest Books, 2000

"Crystalline... Mountain City, part elegy, part defiance of the elegiac, is the winter view from northern Nevada." The New York Times Book Review

"A crisp elegy to an almost vanished American West." Entertainment Weekly

"Mountain City celebrates the alternate Western seasons of promise and pessimism, arrival and abandonment. Hardened like the place he sketches against the vagaries of life, Martin writes sensitively without being maudlin, as if pity were something he discovered late in life." The Denver Post

Martin's is a melancholy song, lovely and heartfelt." San Francisco Chronicle

Life in a dying Western town has found its worthy chronicler A poetic, tender look at Mountain City, Nevada (population 33), and its denizens Martin deftly illuminates the soul and characters behind the crumbling facades." Seattle Post-Intelligencer

Gregory Martin's Mountain City, which describes a small community (thirty-three inhabitants when the books opens, thirty-one when it ends) in the mountains of Nevada, is not only a tender and evocative portrait of a place, but also a loving description of Martin's own extended family, who are descended from Cornish miners and Basque sheepherders." Nancy Pearl, author of BOOKLUST, Recommended Reading for Every Mood, Moment and Reason

"A keen and witty observer...Martin shows how frailty is woven into the fabric of relations; he maintains an immediacy that highlights the humanity of his subjects... gorgeously written, meticulously observed." Publishers Weekly

"Describes the relationships between people...with precision and care. Highly recommended for all libraries." Library Journal

". . . Well written, sweet, yet unsentimental, telling the shared history of a community that's vanishing." USA Today

"In the rural West we're sometimes lucky and get the good books we deserve: Old Jules, Housekeeping, The Meadow, and now Mountain City. Northern Elko County is its own nation, and this is its sweet, ironic anthem." William Kittredge, author of Hole in the Sky

"Mountain City is at the crossroads of the Western heart - the specific old loved place amid life's inexorable routes to elsewhere. With a jeweler's eye and a descendant's respectful affection, Gregory Martin has caught the cadences of life and lingo in this little Nevada spot that still counts for so much in the American story." Ivan Doig, author of This House of Sky

"In prose as clear and full of light as the Western sky, Mountain City presents a way of life once common in America, now fading like a sunset. This book simmers with insight and wisdom about family -- and a few good jokes, too." Chris Offutt, author of Out of the Woods

"Gregory Martin draws a gently humorous, sensitive sketch of Mountain City and its crusty citizens." Evan S. Connell, author of Son of the Morning Star

"Rarely is the story of a place and its people told with such exacting lyricism, clarity and love. Gregory Martin has such a refined eye and ear that this book, composed from mosaic chips of memory, accumulates into one of the most beautiful and significant portraits of an extended family living and dying in the American West that I have ever read." ? Alison Hawthorne Deming, author of The Edges of the Civilized World

"Gregory Martin has illuminated the lives of the residents of Mountain City, Nevada, like the pages of a medieval manuscript. They glow from within. The book is a classic - simple, elegant, and devastating." Richard Shelton, author of Going Back to Bisbee

"In the enchanting microcosm that is Mountain City, author Gregory Martin has captured the character of Basques everywhere." Robert Laxalt, author of Sweet Promised Land