Quantitative Investment Analysis Workbook (Cfa Institute Investment) (Paperback)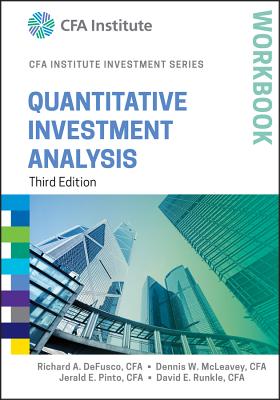 Prices for net books may be different than what is shown here.
Description
---
Hands-on quantitative analysis practice based on real-world scenarios
The Quantitative Investment Analysis Workbook provides a key component of effective learning: practice. As the companion piece to Quantitative Investment Analysis, this workbook aligns with the text chapter-by-chapter to give you the focused, targeted exercises you need to fully understand each topic. Each chapter explicitly lays out the learning objectives so you understand the 'why' of each problem, and brief chapter summaries help refresh your memory on key points before you begin working. The practice problems themselves reinforce the practitioner-oriented text, and are designed to mirror the real-world problems encountered every day in the field. Solutions are provided to all of the problems for those who self-study, and an optional online Instructor's manual brings this book into the classroom with ease.
Quantitative analysis is essential to the investment process, but hypothetical 'pie-in-the-sky' type practice scenarios only waste your time. You need a globally relevant application guide with roots in the real-world industry, so you can spend your time preparing for scenarios that you'll actually encounter. This workbook is your answer, with practice problems covering the complete range of quantitative methods.
Refresh your memory with succinct chapter summaries
Enhance your understanding with topic-specific practice problems
Work toward explicit chapter objectives to internalize key information
Practice important techniques with real-world applications
Consistent mathematical notation, topic coverage continuity, and evenness of subject matter treatment are critical to the learning process. This workbook lives up to its reputation of clarity, and provides investment-oriented practice based on actual changes taking place in the global investment community. For those who want a practical route to mastering quantitative methods, the Quantitative Investment Analysis Workbook is your real-world solution.
About the Author
---
RICHARD A. DeFUSCO, CFA, is a Professor of Finance at the University of Nebraska-Lincoln. He earned his CFA charter in 1999 and started CFA grading in 2000. DENNIS W. McLEAVEY, CFA, is Faculty Advisor to the Ram Fund and Professor Emeritus of Finance and OR/MS at the University of Rhode Island. He obtained his CFA charter in 1990 and began CFA grading in 1995. JERALD E. PINTO, PhD, CFA, has been at CFA Institute since 2002 as Visiting Scholar, Vice President, and now Director, Curriculum Projects in the Credentialing Division for the CFA and CIPM Programs. DAVID E. RUNKLE, CFA, is Director of Quantitative Research for Trilogy Global Advisors, LP. He joined Trilogy in 2007 from Piper Jaffray, where he was an Investment Research Manager.