Gargoyles: A Novel (Vintage International) (Paperback)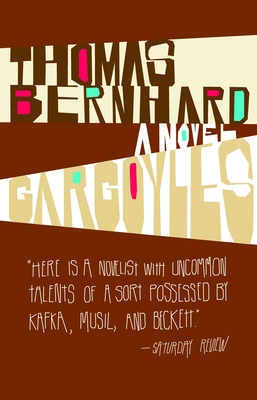 $15.75
Special Order -- These books can be hard for us to get
Description
---
The playwright and novelist Thomas Bernhard was one of the most widely translated and admired writers of his generation, winner of the three most coveted literary prizes in Germany. Gargoyles, one of his earliest novels, is a singular, surreal study of the nature of humanity.
One morning a doctor and his son set out on daily rounds through the grim mountainous Austrian countryside. They observe the colorful characters they encounter—from an innkeeper whose wife has been murdered to a crippled musical prodigy kept in a cage—coping with physical misery, madness, and the brutality of the austere landscape. The parade of human grotesques culminates in a hundred-page monologue by an eccentric, paranoid prince, a relentlessly flowing cascade of words that is classic Bernhard.
About the Author
---
THOMAS BERNHARD was born in Holland in 1931 and grew up in Austria. He studied music at the Akademie Mozarteum in Salzburg. In 1957 he began a second career, as a playwright, poet, and novelist. The winner of the three most distinguished and coveted literary prizes awarded in Germany, he has become one of the most widely translated and admired writers of his generation. His novels published in English include Gargoyles, The Lime Works, Correction, Concrete, Woodcutters, and Wittgenstein's Nephew; a number of his plays have been produced off Broadway, at the Tyrone Guthrie Theatre in Minneapolis, and at theaters in London and throughout Europe. The five segments of his memoir were published in one volume, Gathering Evidence, in 1985. Thomas Bernhard died in 1989.
Praise For…
---
"Here is a novelist with uncommon talents of a sort possessed by Kafka, Musil, and Beckett." —Saturday Review"Extraordinary . . . a virtuoso verbal performance." —Book World"The feeling grows that Thomas Bernhard is the most original, concentrated novelist writing in German. His connections...with the great constellation of Kafka, Musil, and Broch become ever clearer." —George Steiner, The Times Literary Supplement