Eight Girls Taking Pictures (Large Print / Hardcover)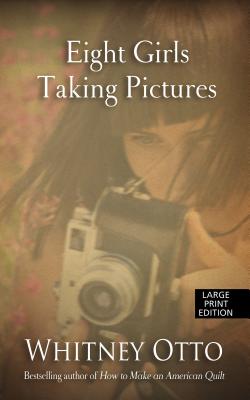 Prices for net books may be different than what is shown here.
November 2012 Indie Next List
---
"Otto is masterful in telling the stories of eight women photographers -- their creative lives, their struggles balancing family and work, their politics (sexual and otherwise), and their place within the art community and the world events of the 20th century. All are skillfully presented and intricately woven together to create an unforgettable novel. Yes, it is fiction, but Otto has drawn from the real lives of gifted, renowned photographers, and the stories behind the images, whether real or imagined are compelling, inspiring and very entertaining. What a feast of a novel!"
— Cathy Langer, Tattered Cover Book Store, Denver, CO
Description
---
Bestselling author Whitney Otto's "Eight Girls Taking Pictures "i s a profoundly moving portrayal of the lives of women, imagining the thoughts and circumstances that produced eight famous female photographers of the twentieth century.
This captivating novel opens in 1917 as Cymbeline Kelley surveys the charred remains of her photography studio, destroyed in a fire started by a woman hired to help take care of the house while Cymbeline pursued her photography career. This tension-- between wanting and needing to be two places at once; between domestic duty and ambition; between public and private life; between what's seen and what's hidden from view--echoes in the stories of the other seven women in the book. Among them: Amadora Allesbury, who creates a world of color and whimsy in an attempt to recapture the joy lost to WWI; Clara Argento, who finds her voice working alongside socialist revolutionaries in Mexico; Lenny Van Pelt, a gorgeous model who feels more comfortable photographing the deserted towns of the French countryside after WWII than she does at a couture fashion shoot; and Miri Marx, who has traveled the world taking pictures, but also loves her quiet life as a wife and mother in her New York apartment. Crisscrossing the world and a century, "Eight Girls Taking Pictures "is an affecting meditation on the conflicts women face and the choices they make. These memorable characters seek extraordinary lives through their work, yet they also find meaning and reward in the ordinary tasks of motherhood, marriage, and domesticity. Most of all, this novel is a vivid portrait of women in love--in love with men, other women, children, their careers, beauty, and freedom.
As she did in her bestselling novel "How to Make an American Quilt, "Whitney Otto offers a finely woven, textured inquiry into the intersecting lives of women. "Eight Girls Taking Pictures "is her most ambitious book: a bold, immersive, and unforgettable narrative that shows how the art, loves, and lives of the past influence our present.