Once Upon a Universe: Not-So-Grimm Tales of Cosmology (Paperback)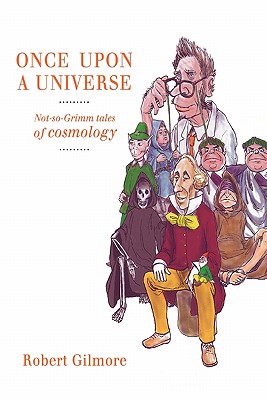 $25.00
We can usually get this book in 3 to 5 days, except during a pandemic. We are doing our best
(This book cannot be returned, even for store credit.)
Description
---
"Once upon a time there was no Universe," began the Storyteller. . . ."
First Snow White encounters one of the Little People, then one of the Even Smaller People, and finally one of the Truly Infinitesimal People. And no matter how diligently she searches, the only dwarves she can find are collapsed stars Clearly, she's not at home in her well-known Brothers Grimm fairy tale, but instead in a strange new landscape that features quantum behavior, the wavelike properties of particles, and the Uncertainty Principle. She (and we) must have entered, in short, one of the worlds created by Robert Gilmore, the physicist and fabulist who brought us the classic "Alice in Quantumland."
Whether he's recasting such classic tales as "Jack and the Quarkstalk," "Waking Beauty," or "Cinderenda and the Death of Stars," Gilmore shows us that there's more than one way to shed light on the strange profundities of modern physics and cosmology, and what they have to tell us about the nature of time and space and motion. Black holes, dying stars, traveling backward through time to the Big Bang - they're all here in accessible, instructive, and charmingly illustrated retellings.
Robert Gilmore has published three previous books with Copernicus, "Alice in Quantumland," "Scrooge's Cryptic Carol," and "The Wizard of Quarks." He is a Visiting Research Fellow, with a special focus on the public understanding of science, at Bristol University in England. He has also worked in particle physics at Brookhaven, Stanford, and CERN in Geneva.