Survive and Thrive in Your Job Search: The Team Networking Group Process to Your Next Job (Paperback)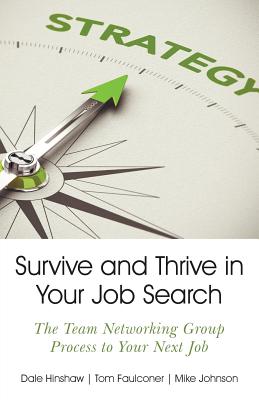 $18.99
We can usually get this book in 3 to 5 days, except during a pandemic. We are doing our best
(This book cannot be returned, even for store credit.)
Description
---
"At your fingertips are the counsel, wisdom, and advice of three of the most humble, credentialed, and experienced professionals in the field of career navigation. These three men have encouraged, coached, mentored, and networked with countless, well-qualified professionals who suddenly found themselves out of a job. Through Survive and Thrive, these men share their advice for those whose world has just been rocked - hard. This level of counsel in one book is an absolute treasure."
-Ron Brumbarger, Founder and President of Apprentice University
"Hinshaw, Faulconer, and Johnson have scored a big success with this book It's a real and ready resource of what is important and useful in navigating the turbulent waters of the job search. They've managed to provide plenty of resources for personal assessment and practical progress while driving home the need to conduct your job search in a context of community. Their book will prove to be a great asset and effective tool in gaining your next employment adventure "
-Lou Stoops, Professional Consultant, Speaker, Trainer,
and Life and Business Coach
"The way you conduct a career search has changed radically. It is easy to find a job. It is much more competitive to find a career. With STAR stories and skills training, TNG offers an approach that helps you to stand out from the others. TNG has helped hundreds find their next career."
-Bruce Flanagan, Career Coach and
author of It's Not About You, It's About Them