After the Parade: A Novel (Hardcover)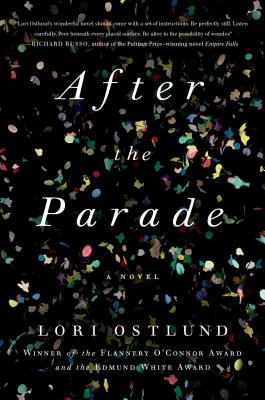 $26.25
Special Order -- These books can be hard for us to get
Description
---
From Flannery O'Connor and Rona Jaffe Award winner Lori Ostlund, a deeply moving and beautiful debut novel about a man who leaves his longtime partner in New Mexico for a new life in San Francisco, launching him on a tragicomic road trip and into the mysteries of his own Midwestern childhood.

Sensitive, big-hearted, and achingly self-conscious, forty-year-old Aaron Englund long ago escaped the confines of his Midwestern hometown, but he still feels like an outcast. After twenty years under the Pygmalion-like direction of his older partner Walter, Aaron at last decides it is time to stop letting life happen to him and to take control of his own fate. But soon after establishing himself in San Francisco—where he alternates between a shoddy garage apartment and the absurdly ramshackle ESL school where he teaches—Aaron sees that real freedom will not come until he has made peace with his memories of Morton, Minnesota: a cramped town whose four hundred souls form a constellation of Aaron's childhood heartbreaks and hopes.

After Aaron's father died in the town parade, it was the larger-than-life misfits of his childhood—sardonic, wheel-chair bound dwarf named Clarence, a generous, obese baker named Bernice, a kindly aunt preoccupied with dreams of The Rapture—who helped Aaron find his place in a provincial world hostile to difference. But Aaron's sense of rejection runs deep: when Aaron was seventeen, Dolores—Aaron's loving, selfish, and enigmatic mother—vanished one night with the town pastor. Aaron hasn't heard from Dolores in more than twenty years, but when a shambolic PI named Bill offers a key to closure, Aaron must confront his own role in his troubled past and rethink his place in a world of unpredictable, life-changing forces.

Lori Ostlund's debut novel is an openhearted contemplation of how we grow up and move on, how we can turn our deepest wounds into our greatest strengths. Written with homespun charm and unceasing vitality, After the Parade is a glorious new anthem for the outsider.
About the Author
---
Lori Ostlund's first collection of stories, The Bigness of the World, received the Flannery O'Connor Award for Short Fiction, the California Book Award for First Fiction, and the Edmund White Debut Fiction Award. It was shortlisted for the William Saroyan International Prize for Writing, was a Lambda finalist, and was named a Notable Book by The Short Story Prize. Her stories have appeared in Best American Short Stories and The PEN/O. Henry Prize Stories, among other publications. In 2009, Lori received a Rona Jaffe Foundation Award. She is the author of the novel, After the Parade and lives in San Francisco.
Praise For…
---
"Lori Ostlund's wonderful novel After the Parade should come with a set of instructions: Be perfectly still. Listen carefully. Peer beneath every placid surface. Be alive to the possibility of wonder."
— Richard Russo, author of the Pulitzer Prize winning novel of Empire Falls

"A beautiful, elegant, honest, and compassionate book about trauma--and the difficult process through which we come to make sense of our lives."
— Hanya Yanighara, bestselling author of A Little Life


"[A] powerful debut novel…After the Parade provides considerable pleasure and emotional power. The teaching scenes, in which Aaron's adult students ponder the mysteries of American English expressions and American customs, are warm, lively and engrossing. Ostlund richly evokes the rural Minnesota of Aaron's childhood, where fine distinctions are made between Norwegians, Swedes and Finns; and, through Aaron, she casts a sharp eye on the generation of closeted gay men Walter and his friends belong to, men whose campiness both disguises and expresses their shame. Indeed, while we may be tempted to forget their struggles now that the Supreme Court has affirmed the right of gay men and lesbians to live with the same dignity as anybody else, After the Parade is a moving testament to those adults who contend with the damaging legacy of shame, and the nonconforming children who live in hostile families, trying to stay afloat and save their own lives."


"After the Parade is a sprawling, hefty narrative — deeply sad and profoundly moving — and its prose is like a second protagonist: Vibrant, living and practically lifting off the page."

"After the Parade is remarkable both for the clarity and precision of Lori Ostlund's writing and her seemingly clairvoyant empathy for the misfits of the world: the different, the foreign, the gay, the bullied, the lonely. Aaron Englund is one of the most lovable, quietly heroic protagonists in recent memory, and Ostlund is a gem of a writer."

— Kate Christensen, author of The Great Man

"Everything here aches, from the lucid prose to the sensitively treated characters to their beautiful and heartbreaking stories…An example of realism in its most potent iteration: not a nearly arranged plot orchestrated by an authorial god but an authentic, empathetic representation of life as it truly is."


"Achingly tender and wise, After the Parade is a heartfelt rumination on reconciling with the past and finding one's place in the world that will resonate with anyone who has ever felt like an outsider."

"After the Parade is about leave-taking and homecoming, two instrumental actions that shape the life of every one of us. So rare does one see a wise writer like Lori Ostlund. Her insight comes from understanding her characters yet not dissecting them with a mental scalpel, and portraying life with its most complex and wondrous dynamics in time and space rather than inventing a static canvas. A new talent to celebrate!"

— Yiyun Li, author of The Vagrants and Kinder Than Solitude

"Luminous…Among the many fine fiction releases crowding the market this fall, Lori Ostlund's new novel stands out from the crowd…Plotted with originality and insight…Ostlund is a keen observer of humanity, and her characters come alive on the page…It's Aaron, her quirky and surprisingly resilient protagonist, who makes this richly comic, quietly affecting novel engaging to the end."

"Ostlund's After the Parade is a generous and full-bodied novel, insightful and quietly provocative. Ostlund gives us characters we believe in and ache for, and she renders them with generosity and sparkling complexity. A confident, moving meditation on home and the construction, and reconstruction, of adult lives."

— Megan Mayhew Bergman, author of Birds of a Lesser Paradise and Almost Famous Women

"As full-bodied and full-blooded a novelas I've read in a long time. The prose sparkles, and the author is so smart andso kind to her characters: a rare combination and so refreshing to read."
— Daniel Wallace, author of Big Fish and The Kings and Queens of Roam

"In her appealing debut, prizewinning short story writer Ostlund writes with acuity and refreshing honesty about the messy complexity of being a social animal in today's world…Touching and often hilarious…Ostlund captures a child's viewpoint impeccably: the awkwardness, the amusing misunderstandings of adults' actions and conversations, and his unusual friendships with fellow misfits. Forming connections isn't necessarily easier when you're grown up, as the novel compassionately illustrates, but it's worth getting up the courage to try."


"On a sentence-by-sentence level, Ostlund's prose is unmatched—smart, resonant, and imbued with beauty."