Those Who Forget: My Family's Story in Nazi Europe – A Memoir, A History, A Warning (Hardcover)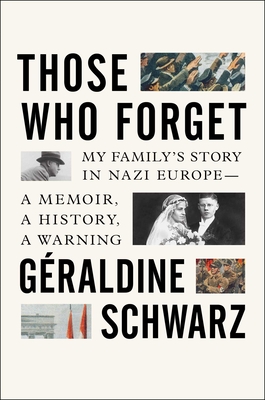 $28.00

On Our Shelves Now as of 24 Hours Ago. Call first to confirm.
Description
---
"[Makes] the very convincing case that, until and unless there is a full accounting for what happened with Donald Trump, 2020 is not over and never will be." —Susan Glasser, The New Yorker

"Deserves to be read and discussed widely...This is Schwarz's invaluable warning." —Samantha Power, The Washington Post Book Review

Those Who Forget, published to international awards and acclaim, is journalist Géraldine Schwarz's riveting account of her German and French grandparents' lives during World War II, an in-depth history of Europe's post-war reckoning with fascism, and an urgent appeal to remember as a defense against today's rise of far-right nationalism.

During World War II, Géraldine Schwarz's German grandparents were neither heroes nor villains; they were merely Mitlaüfer—those who followed the current. Once the war ended, they wanted to bury the past under the wreckage of the Third Reich.

Decades later, while delving through filing cabinets in the basement of their apartment building in Mannheim, Schwarz discovers that in 1938, her paternal grandfather Karl took advantage of Nazi policies to buy a business from a Jewish family for a low price. She finds letters from the only survivor of this family (all the others perished in Auschwitz), demanding reparations. But Karl Schwarz refused to acknowledge his responsibility. Géraldine starts to question the past: How guilty were her grandparents? What makes us complicit? On her mother's side, she investigates the role of her French grandfather, a policeman in Vichy.

Weaving together the threads of three generations of her family story with Europe's process of post-war reckoning, Schwarz explores how millions were seduced by ideology, overcome by a fog of denial after the war, and, in Germany at least, eventually managed to transform collective guilt into democratic responsibility. She asks: How can nations learn from history? And she observes that countries that avoid confronting the past are especially vulnerable to extremism. Searing and unforgettable, Those Who Forget is a riveting memoir, an illuminating history, and an urgent call for remembering.
About the Author
---
Géraldine Schwarz is a German-French journalist, author, and documentary filmmaker based in Berlin. Those Who Forget is her first book. It won the European Book Prize, Germany's Winfried Peace Prize, and Italy's NordSud International Prize for Literature and Science and is currently being translated into eight languages.

Laura Marris is a poet and translator whose translations include Louis Guilloux's novel Blood Dark, which was shortlisted for the 2018 Oxford-Weidenfeld Translation Prize. She is currently working on the new translation for Albert Camus's The Plague.
Praise For…
---
"Out of all the books I read this year—and I read many, stuck at home during 2020's endless quarantine—the one that resonated perhaps the most was Those Who Forget, an account by the French-German author Géraldine Schwarz of postwar Europe's, and her own family's, not entirely successful effort to reckon with the crimes of the Second World War. It made the very convincing case that, until and unless there is a full accounting for what happened with Donald Trump, 2020 is not over and never will be."
—Susan Glasser, The New Yorker

"Schwarz's answer to the cultural amnesia of the last five or 10 years has been this exacting and detailed memoir, a blend of personal and political history.… The stories are vital, and Schwarz is a meticulous, eloquent chronicler."
—Los Angeles Review of Books

"Although she has written a searing book about the past, Schwarz's work is oriented toward the present and the future… Those Who Forget is as readable as it is persuasive. Schwarz embeds her appeal to citizens and nations to do memory work in a gripping detective story centered on her own family's history. She has a gift for finding the single scene or exchange of dialogue that drives home her points... Schwarz's book deserves to be read and discussed widely in the United States principally for all it has to teach us about the urgency of confronting the darkest dimensions of our own history. This is Schwarz's invaluable warning."
—Samantha Power, Washington Post Book Review

"[A] riveting exploration of Germany's post-World War II reckoning with guilt and responsibility ... With eloquence and passion she demonstrates that we can never be reminded too often to never forget."
—Diane Cole, Wall Street Journal

"Schwarz's memoir is astonishing. It illustrates the human capacity to deny, forget, rationalize and gloss over when we are face to face with the most unspeakable crimes against our fellow humans."
—Dannye Romine Powell, Charlotte Observer

"Among titles that are predicted to be the biggest books of 2020... A Berlin journalist writes of her German and French grandparents, considered "ordinary citizens" during World War II but whom she later learns may have had more complex roles.
—Jane Henderson, St. Louis Post Dispatch

"It took Europe arguably two generations to fully face up to its shameful Holocaust past. Books like this one are needed to make sure that future generations don't have any such guilt to deny."
—Fran Hawthorne, New York Journal of Books

"The result of Schwarz's explo­rations and her deter­mi­na­tion to find answers to her ques­tions is a work that — as its sub­ti­tle indi­cates — is part mem­oir, part his­to­ry, part warn­ing. She has skill­ful­ly woven togeth­er ?'the threads of major and minor his­to­ry,' to offer us lessons for today."
—Jewish Book Council

"In this exceptionally timely and well-reasoned debut, Géraldine Schwarz, the granddaughter of a Nazi Party member, makes a powerful case that seeds of the recent resurgence of far-right nationalism in Europe were sown first by the denial and rationalizations of millions of people like her grandparents and then by postwar mythmaking that preempted the "memory work" needed to correct faulty recollections of Nazism. A deserving winner of the European Book Prize, Those Who Forget shows clearly how a willful amnesia can poison nations that have sworn never to forget the Holocaust."
—Kirkus Reviews, starred

"In her debut, journalist and documentary filmmaker Schwarz offers a powerful and unflinching look at Germany during World War II and Europe's postwar reckoning with far-right nationalism, and calls for readers not to forget the painful lessons learned... In searing yet engaging prose, Schwarz makes her case for the need for memory work in this highly recommended read."
—Library Journal, starred

"A timely must-read, this brutally honest memoir is also a smart historical analysis and a relevant warning for the future."
—Booklist, starred

"[An] astute debut ... this timely memoir also serves as a perceptive look at the current rise of far-right nationalism throughout Europe and the U.S."
—Publishers Weekly

"Those Who Forget is enlightening... It's an absolutely excellent choice for anyone interested in history and current events, and for book groups, too, providing timely and important fodder for deep discussion."
—BookBrowse

"An utterly original memoir for our times, elegant, courageous and deeply affecting."
—Philippe Sands, author of East West Street: On the Origins of "Genocide" and "Crimes Against Humanity"

"Those Who Forget goes far beyond the difficult endeavor of conveying the complexity of the German war experience: It is a deeply thoughtful and thought-provoking reflection on the far-reaching effect history has on us as individuals, as families, and as societies. Making a case for taking individual – not just collective – responsibility, she helps us understand the importance of openly facing our past, and of actively learning from it, at a time when our democracy, once again, is under threat. Those Who Forget is a powerful monument to our time, and an urgent wake-up call."
—Nora Krug, author of Belonging: A German Reckons with History and Home

"It took only two generations for her family's unexceptional wartime past to recede from view. But as the author painstakingly peeled away decades of denial, it was precisely the family's ordinariness that would prove so chilling. Geraldine Schwarz's book is a brave and important contribution to our understanding of memory."
—Daniel Okrent, author of The Guarded Gate: Bigotry, Eugenics and the Law That Kept Two Generations of Jews, Italians, and Other European Immigrants Out of America

"Absolutely remarkable ... reading [Those Who Forget] is a must."
—France Culture

"An absolutely fascinating book!"
—France Télévision

"Very enriching ... outstandingly composed."
—Süddeutsche Zeitung

"The book of the hour."
—Die Welt

"Crystal clear ... a haunting work of remembrance."
—Westdeutscher Rundfunk