Acceptance and Commitment Therapy: The Essential Practitioner's Guide to Understand, Learn and Practice ACT (Paperback)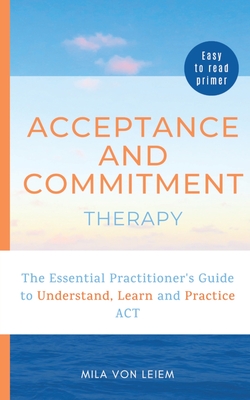 $19.99

Backordered. There will likely be a delay in getting this book
Description
---
Do you want to take a different perspective on your problems, your life, and the way you live it? Then keep reading...
Many people suffer for their feelings and thoughts, they fighting them and try to push them away, which is a behavior that worsens the situation. While your mind is hazy for this kind of intrusive thoughts, is so difficult to become estranged and focused on the present moment. This type of negative escalation can have an exaggerated influence on your life.
Acceptance and Commitment Therapy is a proven-effective treatment for numerous mental health issues like depression, anxiety, stress, eating disorders, and addiction; and is a scientifically based psychotherapy meant to help people embrace their feelings and thoughts instead of struggling with them or feeling guilty for having them. The only thing that happens when you try to run away from your problems is that you get further away from the solution. The best thing you can do is to solve the problem.
learn that thoughts aren't facts
accept painful experience
mature your self-conceptualization to build self-confidence and self-esteem
develop a willingness to embrace every life's experience
understand your values
became aware of the present moment
commit to living a rewarding and meaningful life
Even if you feel like there's no possibility for you to be joyful, there's always something that you can do if you want to. This book can be the first step.
Scroll up to the top and click buy