One Hundred Daffodils: Finding Beauty, Grace, and Meaning When Things Fall Apart (Hardcover)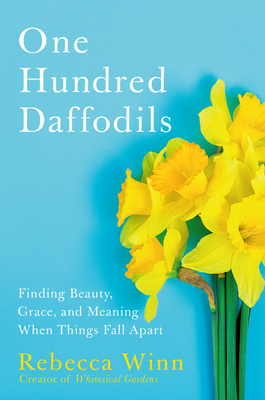 $27.00

We can usually get this book in 3 to 5 days, except during a pandemic. We are doing our best
Description
---
"When women share the truth about life and loss . . . hope is restored" in this enlightening and comforting memoir about purpose, personal growth, and nature's ability to heal (Sarah Ban Breathnach).

"There is so much life in the garden. That is why I come. Life that is gentle, self-supporting, and beautiful. Continuous in its cycles, grounded, pure."

When her husband asked for a divorce after twenty-five years of marriage, Rebecca Winn felt untethered physically, spiritually, and emotionally. The security she'd had in her marriage was suddenly replaced by an overwhelming sense of fear, hopelessness, and dread. She felt invisible and alone and was horrified to consider that her deepest longing -- to know and be known by another person -- might never be realized. But from this fear emerged a powerful desire to answer one of life's most profound questions: How can we ever know another person if we do not truly know ourselves?

Facilitated in measures by a love affair with a younger man, dedicated study of Jungian psychology, and a deep dive into global spiritual practices, Winn transformed heartbreak into wholeness through communion with the divine in nature. By turning to her garden for guidance, sanctuary, and inspiration, and dialing closely into the flora and fauna around her, she ultimately discovered what is possible when we are willing look at our unvarnished selves with an open mind -- and see others with an open heart.


About the Author
---
Rebecca Winn is a multiple award-winning landscape designer and creator of the inspirational Facebook blog, Whimsical Gardens. Her eye for nature's beauty and her unique blend of wisdom, insight, and humor inspire and entertain hundreds of thousands of readers around the globe each day. Born in Dallas, Texas, Rebecca's family moved to Europe when she was in first grade, providing her the opportunity to grow up surrounded by the majestic, centuries old gardens of Italy, Scotland, and England, which strongly influenced both her garden designs and her writing. Her articles have appeared in regional and national magazines. One Hundred Daffodils is her first book.
Praise For…
---
"When women share the truth about life and loss, hearts can
begin to heal and hope is restored. Readers will embrace that gift in Rebecca Winn's comforting and lovely
memoir on beginning again."
—
Sarah Ban Breathnach,author of Simple Abundance: 365 Days to a Balanced and Joyful Life
"Rebecca Winn's quiet
reflections here remind us that the restorative powers of the natural world are
elusive, enigmatic: so often, they take us far and away from ourselves, all the
while rooting us firmly in who we are and where we are. Kudos to her for
tracking these ambiguities with such grace and clarity."
—
Akiko Busch, author of How toDisappear
"Rebecca Winn is an artist with words. Her book,
One Hundred Daffodils
, proves the underestimated power of beauty to heal our deepest wounds. Using her garden, nature, and a delightful smattering of wild creatures, she weaves her midlife catastrophe into a beautifully written story of raw vulnerability, courage, and transformation. I was totally captivated and entranced."—
Arielle Ford, author of Turn Your Mate Into Your Soulmate
"Intimate and wise . . . Readers enduring a rough patch in life will benefit from Winn's empathy and hard-won wisdom."
—
Publishers Weekly
"A warm, lushly sensitive memoir . . . restorative."
—
MPR News
"If you're dealing with heartache, Rebecca Winn knows how to ease the pain . . . If you're wondering what role you have in this world, Rebecca Winn can help you unearth it . . . If you're looking for wonder, oh my, Rebecca Winn knows where you need to immerse yourself."
—
fyi50+
"Comforting."
—
Dallas Morning News
"A botanical elixir for all of our aching hearts."
—
Superhero of Love Podcast