Incarnadine: Poems (Paperback)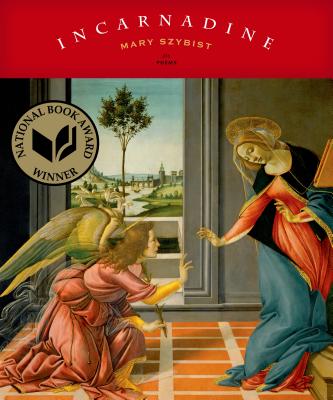 $16.00

On Our Shelves Now as of 24 Hours Ago
Description
---
Winner of the 2013 National Book Award for Poetry
* An NPR, Slate, Oregonian, Kansas City Star, Willamette Week, and Publishers Weekly Best Book of the Year * Amazon's Best Book of the Year in Poetry 2013 *
In Incarnadine, Mary Szybist restlessly seeks out places where meaning might take on new color. One poem is presented as a diagrammed sentence. Another is an abecedarium made of lines of dialogue spoken by girls overheard while assembling a puzzle. Several poems arrive as a series of Annunciations, while others purport to give an update on Mary, who must finish the dishes before she will open herself to God. One poem appears on the page as spokes radiating from a wheel, or as a sunburst, or as the cycle around which all times and all tenses are alive in this moment. Szybist's formal innovations are matched by her musical lines, by her poetry's insistence on singing as a lure toward the unknowable. Inside these poems is a deep yearning—for love, motherhood, the will to see things as they are and to speak. Beautiful and inventive, Incarnadine is the new collection by one of America's most ambitious poets.
About the Author
---
Mary Szybist is the author of a previous poetry collection, Granted, a finalist for the National Book Critics Circle Award. She teaches at Lewis & Clark College and lives in Portland, Oregon.
Praise For…
---
"In her gorgeous second collection, Mary Szybist blends traditional and experimental aesthetics to recast the myth of the Biblical Mary for this era. In vulnerable lyrics, surprising concrete poems, and other forms, and with extraordinary sympathy and a light touch of humor, Szybist probes the nuances of love, loss, and the struggle for religious faith in a world that seems to argue against it. This is a religious book for nonbelievers, or a book of necessary doubts for the faithful." —National Book Awards judges citation
"A religious book for a secular America, this is among the most arresting and inventive collections of the past few years. . . . [Szybist is] a restless formal experimenter and a humble, compassionate observer of the complicated glory of the world. If you read only one book of poetry this year, you're not reading enough poetry--but if it must be one, this should be it." —Craig Morgan Teicher, NPR, "Best Books of 2013"
"Not since Adrienne Rich's early work has a collection thought so deeply about the permeable barrier between the spirit and the body, and motherhood. . . . Szybist writes lucid, delicately precise lines that grow more steeply enjambed as she falls into her subject. . . . Extraordinary." —John Freeman, The Boston Globe
"Gorgeous. . . . [The] intersection of human and divine colors every page. . . . Szybist burns throughout these pages, whether she writes about a butterfly, a donkey sanctuary or a young captain during World War II. When Szybist sees angels, they are everywhere--in alchemy, barrenness and earthquakes." —The Washington Post
"Poetry readers in the know have been waiting a decade for this book. . . . Szybist is a skeptic who thinks a lot about faith, a believer in doubt, though as a series of 'Announcement' poems attest, she finds God all around--in everything from the distracted discourse of former President Bush to the sound of 'a vacuum / start[ing] up next door.' . . . More than anything, though, Szybist is a humble and compassionate observer of the complicated glory of the world and humanity's ambivalent role in it, as inheritors and interlopers." —Craig Morgan Teicher, NPR.org
"Szybist persistently tightens the association between revelation and destruction, presenting the other side of an unspoken loss that seems to lurk in the decade Incarnadine emerges from: a loss of faith, urgency, purpose, love, inspiration." —Slate
"[Incarnadine] is deeply felt and well-crafted, layered in content between the literal, the here and now, the might-have-beens, as well as iconography. Stark at moments, shrouded in others, Szybist utilizes form to push at and hold the stories told and the images explored in this rich and moving work." —The Oregonian
"Szybist artfully reconciles the legend of the Annunciation with our contemporary culture. . . . Incarnadine is sophisticated, wry, faithful, divine, contradictory, tragic and allusive." —The Rumpus
"Szybist's various poetic 'annunciations' recall Rilke's line that 'every angel is terrifying;' this is 'a world where a girl has only to say yes and heaven opens' but where the young girl finds that 'the Holy / will overshadow you.' Szybist is the rare poet of flesh and spirit who can repeatedly capture that terrible moment of grace." —Plain Dealer (Cleveland)
"Smart, unflinching, beautiful, the poems in Incarnadine embrace the paradoxes of love: love of being beheld, of being beholden, of being done unto, and of what it means to care for what we make of what we are given, or not given, of what it means to see annunciations everywhere, in disasters, tragedies, moments of grace and miracle." —Los Angeles Review of Books
"Pulses with its titular rosy glow. . . . Incarnadine paints a portrait of its author--longing for motherhood, questioning the divine, watching patterns of sunlight through her curtains and playing with her words. In her letter-style poem 'To Gabriela at the Donkey Sanctuary,' she puts it simply: 'What I want is what I've always wanted. What I want is to be changed." —Willamette Week
"Incarnadine is a formally playful and carefully crafted book with a sense of wonder. Through a grace and a little humor, Szybist explores spirituality and intimacy in the quiet moments of life." —Hazel & Wren
"Szybist has carefully approached potentially volatile and politically squeamish topics by linking them to the personal, showing how poetry interacts with and reacts to these deep historical and contemporary chasms of the rights and representations of women in religion, literature, and society." —New Pages
"Szybist's collection evokes the old Catholic direction to find God in all things, but you don't have to be Catholic to understand exactly what she's getting at. Rather, she merely exposes the supernatural as it occurs among us every day and invites us to marvel at the spiritual heaviness of the world--which, even its darkest moments, she skillfully demonstrates as beautiful." —New Orleans Review
"Szybist's long-awaited second collection is a mirage of inventive, intense, dichotic poems." —Library Journal
"Love poetry and poetry of religious faith blend and blur into one transcendent, humbled substance. . . . Whether or not readers are attuned to the religious content, these are gorgeous lyrics, in traditional and invented forms--one poem is a diagrammed sentence while another radiates from an empty space at the center of the page--which create close encounters with not-quite-paraphrasable truths. This is essential poetry." —Publishers Weekly