New York State of Mind (Hardcover)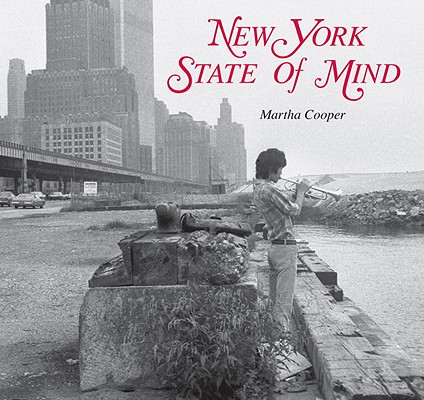 $29.95

Special Order -- These books can be hard for us to get
Description
---
In 1975, New York City was bankrupt. Crime was at an all-time high, street muggings were commonplace, buildings were crumbling, entire neighborhoods were abandoned by landlords as residents fled to the suburbs, and the federal government couldn't care less. Nevertheless, intrepid documentary photographer Martha Cooper was inexorably drawn to this embattled but irresistible urban mecca.

Moving from the quiet shores of Narragansett, Rhode Island, Cooper fell in love with lawless New York, where the citizens reveled in the "anything goes" atmosphere and prided themselves on their survival strategies. She zipped around the city in a beat-up Honda Civic with no qualms about making U turns to shoot a quick photo or double-park whenever, wherever. Her friends complained that she drove like a cabbie and Cooper took that as a supreme compliment.

In 1977, Cooper landed a staff position at the New York Post, and for the next three years she canvassed the city daily, shooting every kind of assignment imaginable. From blizzards to beaches, rooftops to Central Park, Cooper's photographs, collected here for the first time, reveal the true New York State of Mind: one of unstoppable optimism and unflappable endurance in the face of any situation.
About the Author
---
Martha Cooper is a documentary photographer who has specialized in urban vernacular art and architecture for more than twenty-five years. Cooper worked as a staff photographer for the "New York Post" from 1977 to 1980, when she left to follow the emerging Hip Hop scene. In 1984, collaborating with Henry Chalfant, she published "Subway Art" (Thames & Hudson), showcasing the best painted trains of the era. Cooper's other books of photographs include "We B*Girlz" (Miss Rosen Editions/powerHouse Books, 2005), "Street Play" and "Hip Hop Files: Photographs 1979-1984" (From "Here To Fame," 2006 and 2004) and "R.I.P.: New York Spraycan Memorials" (Thames & Hudson, 1994) with text by folklorist Joseph Sciorra. Cooper is the Director of Photography at "City Lore: the New York Center for Urban Folk Culture." She lives in New York.

Miss Rosen Editions, a division of powerHouse Cultural Entertainment, spotlights contemporary urban culture with titles including "Public Access: Ricky Powell Photographs 1985-2005, We B*Girlz" by Martha Cooper and Nika Kramer, "Pees on Earth" by Ellen Jong, "Bombshell: The Life and Crimes of Claw Money, It's All Good" by Boogie, "Bears" by Kent Rogowski, "Burgerworld: Inside Hamburger Eyes" by Ray Potes, "New York State of Mind" by Martha Cooper, "Do Not Give Way to Evil "by Lisa Kahane, "Belgrade Belongs to Me" by Boogie, " TV Party" by Glenn O'Brien, and "FUN! The True Story of Patti Astor." Publisher Sara Rosen, Publicity Director of powerHouse Books since 2000 and editor of "powerHouse Magazine" since 2006, also curates exhibitions at powerHouse Arena.