Age of Silver: Encounters with Great Photographers (Hardcover)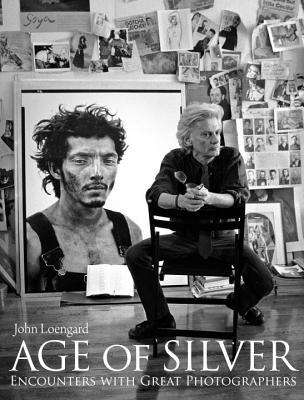 $45.00
Special Order -- These books can be hard for us to get
Description
---
Age of Silver is iconic American photographer John Loengard's ode to the art form to which he dedicated his life. Loengard, a longtime staff photographer and editor for LIFE magazine and other publications, spent years documenting modern life for the benefit of the American public. Over the years he trained his camera on dignitaries, artists, athletes, intellectuals, blue and whitecollar workers, urban and natural landscapes, manmade objects, and people of all types engaged in the act of living. In Age of Silver, Loengard gathers his portraits of some of the most important photographers of the last half-century, including Annie Leibovitz, Ansel
Adams, Man Ray, Richard Avedon, Alfred Eisenstaedt, Henri Cartier-Bresson, and
many, many others. Loengard caught them at home and in the studio; posed portraits and candid shots of the artists at work and at rest.

  Complimenting these revealing, expertly composed portraits are elegant photographs of the artists holding their favorite or most revered negatives. This extra dimension to the project offers an inside peek at the artistic process and is a stark reminder of the physicality of the photographic practice at a time before the current wave of digital dominance. There is no more honest or faithful reproduction of life existent in the world of image making than original, untouched silver negatives.

  Far from an attempt to put forth a singular definition of modern photographic practice, this beautifully printed, duotone monograph instead presents evidence of the unique vision and extremely personal style of every artist pictured. Annie Leibovitz is quoted in her caption as once saying, "I am always perplexed when people say that a photograph has captured someone. A photograph is just a piece of them in a moment. It seems presumptuous to think you can get more than that." However, by including not just portraits of the artists, but also of their negatives Loengard aims to capture something more than just a piece of each of photography's greats with Age of Silver.
About the Author
---
John Loengard was born in New York City in 1934. In 2005, "American Photo" magazine identified Loengard as "one of the 100 most influential people in photography." He began shooting photography professionally for "LIFE" magazine when he was still a senior at Harvard University. He spent much of his career photographing for "LIFE" in its various incarnations, acting as the picture editor of the monthly "LIFE" magazine relaunch from 1978-1987. He is the author of eight books of photography including "Celebrating the Negative" (Arcade Publishing, 1994), and "As I See It "(Vendome Press, 2005).

David Friend, "Vanity Fair"'s editor of creative development, served as "LIFE "magazine's

director of photography during the 1990s. Friend is the author of "Watching the World

Change: The Stories Behind the Images of 9/11" (Farrar, Straus, Giroux, 2006). And

he won Emmy and Peabody Awards as an executive producer of the CBS documentary

"9/11," which has aired in more than 140 countries.
Praise For…
---
"Mr. Loengard's environmental portraits are informed by his respect and affection for these exceptional silversmiths."
-The Wall Street Journal

"If Age of Silver was nothing more ambitious than a collection of photographs by John Loengard, it would still be a significant entry into the canon of photographic history. After all, Loengard's long tenure at LIFE magazine, and his unerring eye for capturing images from every corner of the world around him, helped to make him something of a hero. But in fact, Age of Silver…operates on an even grander scale."
-Société Perrier

"It reminds me why I love photography."
-Willis E. Hartshorn, Ehrenkranze Director of The International Center of Photography
<p class="MsoNormal">"It's an amazing book in all ways, and the size is just perfect, too: I mean refrigerator size would also be great, but everything looked amazing in this format, since it really allowed the viewer in." -Ann Beattie, author "It has  the immediacy, the presence on the page, the unmanipulated unexpectedness, the enjoyableness and in many pages, the memorableness of Life at its best."
-David Goldblatt, photographer