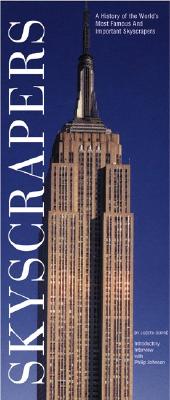 $19.95

Special Order -- These books can be hard for us to get
Description
---
Skyscrapers is a lavish and appropriately soaring celebration of the world's most spectacular buildings. From the ancient Lighthouse at Alexandria to the Leaning Tower of Pisa, from the Empire State Building to the Petronas Towers in Malaysia, the 50 buildings represented in this magnificent book leap off the page in words and more than 200 rich, duotone images. This unique volume includes facts-at-a-glance for each building, visual comparisons of heights, and quotes from a variety of architects and experts--all accompanying stunning full-page photos of each structure.

"An eye-popping shelf-scraper...an elevating experience." -Gene Shalit, "Today"

"Breathtaking. Magnificent. Unique. Very special. Exquisite. One-of-a-kind. Well researched. Beautifully designed." -Robert J. Bruss, Tribune Media Services


About the Author
---
Judith Dupré, New York Times bestselling author has written many books about architecture, including Bridges, Churches, and Monuments. She consults on large-scale infrastructure projects and lectures at Yale and other universities. She lives in New York. Visit www.judithdupre.com.
Adrian Smith is considered the foremost architect of supertall skyscrapers in the world. Formerly with Skidmore, Owings & Merrill, his buildings include Burj Dubai, the Jin Mao Tower in Shanghai, and the Trump International Tower in Chicago, where he lives and works.
Praise For…
---
"[A] handsome compendium, which is as witty in its lanky format as it is fascinating within."
—
Manuel Mendoza, Dallas Morning News
"Judith Dupré skillfully couples a narrative with stunning photographs and factoids that distinguish this skyscraper-shaped book from so many others."
—
Bill Thompson
,
The Post and Courier (Charleston, SC)
"Unique in scale and design, and packed with eye-popping photographs?"
           


—
-
"Talk about an ideal match of subject and form?.the stunning array of black-and-white photographs that accompany Dupre?s incisive, fact-filled text capture both the mass and soaring aspirations of the structures?"  

—
Sam Roberts
,
The New York Times
"Skyscrapers is ingeniously shaped?this tall and skinny volume?is the perfect canvas for full-page black-and-white photographs and illustrations of well-known classics?.But this isn?t just a celebratory picture book.  Ms Dupré is a scholar interested in the aesthetic and environmental issues raised by supertall architecture.  Skyscrapers is chock-full of historical context as it projects the implications and future prospects of metal and glass that reach for the sky."   

—
Richard Helm
,
The Edmonton Journal