PPI ARE 5.0 Practice Questions All Six Divisions, 2nd Edition – Comprehensive Practice for the NCARB 5.0 Exam (Paperback)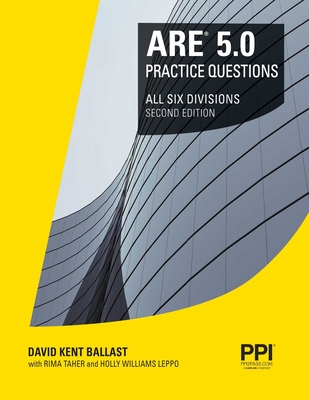 $152.00
Special Order -- These books can be hard for us to get
Description
---
A must-have book in preparation for each of the six divisions of ARE 5.0
ARE 5.0 Practice Questions
, PPI's best-selling ARE practice book, prepares you for each of the six divisions of the exam with a variety of practice questions and case studies. This new edition builds on the previous edition with new questions and updates to cover content feedback received from NCARB for the
ARE 5.0 Exam Review
. The questions that were found to be appropriate during the review were kept in the new edition.
Key Features:
Over 550 challenging practice questions for each subtopic that break down the information in the six exam divisions, allowing you to focus on specific areas
2 case studies at the end of each division designed to test your ability to examine and use multiple pieces of information to make decisions about scenarios that could be encountered in the practice of architecture
Clearly written solutions that are thorough and easy to follow, with units that are meticulously identified and carried through in all calculations to support theory and application of key concepts
Questions include alternative item types including multiple choice, case study, check-all-that-apply, quantitative-fill-in-the-blank, drag-and-place, and hotspot to familiarize you with the types of questions you'll encounter in the exam
Pages tabbed in six different colors, one for each division, for easy lookup of a particular exam division
Chapters correspond to David Ballast's ARE 5.0 Exam Review so you can read a chapter of ARE 5.0 Exam Review and then practice from the same chapter of ARE 5.0 Practice Questions
Binding: Paperback
Publisher: PPI, a Kaplan Company
All Six ARE 5.0 Exam Divisions Covered
Practice Management, 78 questions, 2 case studies
Project Management, 61 questions, 2 case studies
Programming & Analysis, 99 questions, 2 case studies
Project Planning & Design, 138 questions, 2 case studies
Project Development & Documentation, 117 questions, 2 case studies
Construction & Evaluation, 71 questions, 2 case studies
Looking for updates to this book? PPI's website has an up-to-date list of all corrections and updates to our books.
About the Author
---
David Kent Ballast, FAIA, CSI, NCIDQ Certification No. 9425, owns Architectural Research Consulting, a firm offering information and management services to architects, interior designers, and the construction industry. Mr. Ballast taught interior c