Prisoners of Geography: Our World Explained in 12 Simple Maps (Illustrated Young Readers Edition) (Abridged / Hardcover)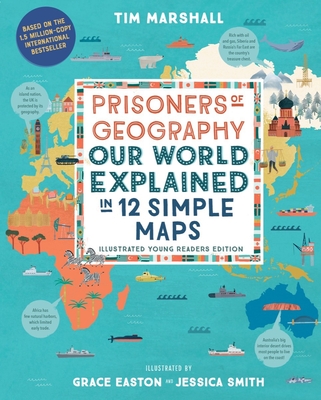 $19.95

Coming Soon - Available for Pre-Order Now
Description
---
Discover a secret world history written in the mountains, rivers, and seas that shape every country's politics, economy, and international relations--and our own lives
History is a story--and it's impossible to tell the whole tale without understanding the setting. In this eye-opening illustrated edition of the international bestseller
Prisoners of Geography
, you'll learn to spot connections between geography and world affairs in ways you never noticed before.
How did the US's rivers help it become a superpower?
Why are harsh, cold, and swampy Siberia and the Russian Far East two of that country's most prized regions?
How come Japan prefers to trade along the coasts instead of across its land?
What do the Himalayas have to do with war?
With colorful maps that capture every continent and region, plus hundreds of illustrations that illuminate how our surroundings shape us, this one-of-a-kind atlas will inspire curious minds of all ages
About the Author
---
Tim Marshall is a leading authority on foreign affairs with more than 30 years of reporting experience. He was diplomatic editor at Sky News, and before that was working for the BBC and LBC/IRN radio. He has reported from 40 countries and covered conflicts in Croatia, Bosnia, Macedonia, Kosovo, Afghanistan, Iraq, Lebanon, Syria and Israel. He is the author of the Sunday Times bestsellers Prisoners of Geography: Ten Maps that Tell You Everything You Need to Know About Global Politics and Divided: Why We're Living in an Age of Walls; Worth Dying For: The Power and Politics of Flags; and Shadowplay: Behind the Lines and Under Fire. He is founder and editor of the current affairs site TheWhatandtheWhy.com