My Life on the Line: How the NFL Damn Near Killed Me and Ended Up Saving My Life (Paperback)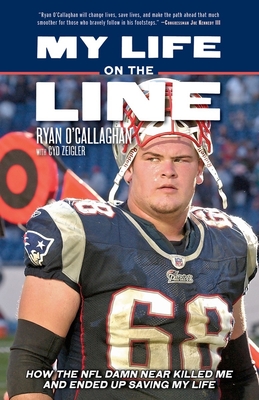 $15.95
On Our Shelves Now as of 24 Hours Ago
Description
---
"Football gave Ryan O'Callaghan a scholarship to Cal and the chance to earn millions in the NFL, but it also afforded him something far more important: a place to hide. As a closeted gay man, his helmet and pads became tools of deception...O'Callaghan, who retired in 2011 after four seasons, eventually found the courage to live his truth in retirement. His memoir offers an unsparing look at the nexus of sexuality and football."
--Sports Illustrated
"O'Callaghan came out as gay in 2017 after retiring from the league in 2011. Fearing condemnation while hiding his sexual orientation during a football career that spanned six seasons, O'Callaghan said he had regular suicidal thoughts while growing addicted to painkillers and he had elaborately planned his own death for retirement. In My Life On the Line, co-authored by Outsports co-founder Cyd Zeigler, O'Callaghan...credits then-Kansas City Chiefs executive Scott Pioli and Dr. Susan Wilson for saving his life once he came out to them."
--USA Today
"In a new book due out in September, O'Callaghan discusses his life story, including the treatment he received from former teammates after coming out."
--Boston Globe
"Former Patriots lineman Ryan O'Callaghan spent his entire career hiding his sexuality from his teammates, his friends and his family. He is now sharing that battle in his new book, My Life On The Line."
--CBS Boston (WBZ TV)
"O'Callaghan believes the NFL is moving in the right direction with social issues, albeit slowly...O'Callaghan is part of that change. And that change saved his life."
--Boston Globe, feature on Ryan O'Callaghan
"As one of the few openly gay former U.S. players, O'Callaghan's goal became making it easier for future athletes to be open about their sexuality and gender identity well before they enter professional sports."
--Reuters
"O'Callaghan is one of only a few openly gay former NFL players...In his upcoming memoir, My Life on the Line: How the NFL Damn Near Killed Me and Ended Up Saving My Life, O'Callaghan candidly discusses his addictions, mental health and struggles with his sexuality."
--Washington Blade
Ryan O'Callaghan's plan was always to play football and then, when his career was over, kill himself. Growing up in a politically conservative corner of California, the not-so-subtle messages he heard as a young man from his family and from TV and film routinely equated being gay with disease and death. Letting people in on the darkest secret he kept buried inside was not an option: better death with a secret than life as a gay man. As a kid, Ryan never envisioned just how far his football career would take him. He was recruited by the University of California, Berkeley, where he spent five seasons, playing alongside his friend Aaron Rodgers. Then it was on to the NFL for stints with the almost-undefeated New England Patriots and the often-defeated Kansas City Chiefs.
Bubbling under the surface of Ryan's entire NFL career was a collision course between his secret sexuality and his hidden drug use. When the league caught him smoking pot, he turned to NFL-sanctioned prescription painkillers that quickly sent his life into a tailspin. As injuries mounted and his daily intake of opioids reached a near-lethal level, he wrote his suicide note to his parents and plotted his death.
Yet someone had been watching. A member of the Chiefs organization stepped in, recognizing the signs of drug addiction. Ryan reluctantly sought psychological help, and it was there that he revealed his lifelong secret for the very first time. Nearing the twilight of his career, Ryan faced the ultimate decision: end it all, or find out if his family and football friends could ever accept a gay man in their lives.
About the Author
---
Ryan O'Callaghan played right tackle in the NFL for six seasons, with the New England Patriots and Kansas City Chiefs. Before he was drafted by the Patriots in 2006, he played for the University of California Golden Bears, where he helped the team win two bowl games and was named the 2005 Morris Trophy winner as the Pac-10's best offensive lineman. O'Callaghan is the creator of a foundation designed to provide scholarships for out LGBTQ athletes. He currently lives in his hometown of Redding, California. All of O'Callaghan's proceeds from the dale of this book will benefit The Ryan O'Callaghan Foundation (www.ROFDN.org).Cyd Zeigler is the cofounder and coeditor of Outsports.com, the world's most renowned publication dealing with LGBTQ issues in sports. One of the world's leading experts on the intersection of sexuality and sports, Zeigler has been tapped to discuss the issue by CNN, ESPN, the New York Times, Sports Illustrated, and many others. He has worked with countless athletes to tell their coming-out stories, including professional athletes Michael Sam, John Amaechi, and Ryan O'Callaghan. He is also the author of Fair Play: How LGBT Athletes Are Claiming Their Rightful Place in Sports. A graduate of Stanford University, Zeigler now lives in Los Angeles with his husband and two cats.