Swimming Home: A Novel (Paperback)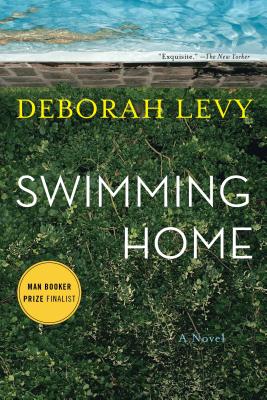 $15.00
On Our Shelves Now as of 24 Hours Ago
Description
---
Selected for the 2012 Man Booker Prize short list. "Levy manipulates light and shadow with artfulness. She transfixes the reader: we recognize...the thing of darkness in us all. This is an intelligent, pulsating literary beast." --The Telegraph (UK)
As he arrives with his family at the villa in the hills above Nice, Joe sees a body in the swimming pool. But the girl is very much alive. She is Kitty Finch: a self-proclaimed botanist with green-painted fingernails, walking naked out of the water and into the heart of their holiday. Why is she there? What does she want from them all? And why does Joe's enigmatic wife allow her to remain?
A subversively brilliant study of love, Swimming Home reveals how the most devastating secrets are the ones we keep from ourselves.
About the Author
---
Deborah Levy trained at Dartington College of Arts before becoming a playwright. Her plays include Pax, Heresies, Clam, Call Blue Jane, Shiny Nylon, Honey Baby Middle England, Pushing the Prince into Denmark and Macbeth-False Memories. She has also written some novels and was a Fellow in Creative Arts at Trinity College, Cambridge from 1989-1991.
Praise For…
---
"Swimming Home is unlike anything but itself . . . . Readers will have to resist the temptation to hurry up in order to find out what happens . . . Our reward is the enjoyable, if unsettling, experience of being pitched into the deep waters of Levy's wry, accomplished novel." - Francine Prose, The New York Times Book Review

"Elegant . . . subtle . . . uncanny . . . The seductive pleasure of Levy's prose stems from its layered brilliance . . . [Swimming Home is] witty right up until it's unbearably sad." - Ron Charles, The Washington Post

"Here is an excellent story, told with the subtlety and menacing tension of a veteran playwright." - Sam Sacks, The Wall Street Journal

"Exquisite . . . Levy's sense of dramatic form, as she hastens us toward the grim finale, is unerring, and her precise, dispassionate prose effortlessly summons people and landscapes." - The New Yorker

"Ms. Levy is a stealthy storyteller, lulling us while busy scattering clues." - Susannah Meadows, The New York Times

"Wholly new, fresh and, yes, profound . . . [Swimming Home] floats like a wasp, and stings like one too." - Tucker Shaw, The Denver Post