Abandoned Malls of America: Crumbling Commerce Left Behind (Hardcover)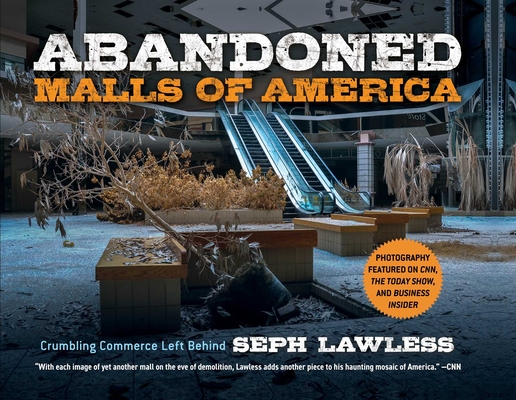 $35.00

We can usually get this book in 3 to 5 days, except during a pandemic. We are doing our best
Description
---
Photography has been featured on CNN, The Today Show, and Business Insider

What happens when the symbol of commerce crumbles?
This collection of nearly two hundred stunning yet melancholic photos captures the decline of one of the biggest symbols of American consumerism—the shopping mall. Seph Lawless, whom
Huffington Post
refers to as the "master of the abandoned," details the dilapidated state of these buildings that were once thriving with people and merchandise, now left to rot and be overrun with plant and animal life.
In
Abandoned Malls of America
, Lawless showcases haunting images of shopping malls from all across America, from his hometown of Cleveland, OH in the Midwest to Birmingham, AL in the South and all the way to Los Angeles, CA on the West Coast. Alongside these beautiful images are first-hand accounts from people who grew up going to these malls, reminiscing on the dually wistful and fond memories of their once-favorite local hangouts. These essays include anecdotes from actress Yvette Nicole Brown (
Drake and Josh
;
Community
; etc.), actor Justin Kucsulain (
The Walking Dead
),
New Yorker
investigative journalist Ronan Farrow, and more.
In this follow-up to his previous book,
Abandoned
, "artivist" Seph Lawless continues his journey photo-documenting the America left behind in the throes of economic instability and overall decline.
Abandoned Malls of America
is a perfect read for those interested in photography, architecture, or just longing for a little bit of nostalgia.
Malls included:
Randall Park Mall (North Randall, OH)
Euclid Square Mall (Euclid, OH)
Rolling Acres Mall (Akron, OH)
Century III Mall (Pittsburgh, PA)
Charlestown Mall (St.Charles, IL)
Columbia Colonnade (Formerly "Columbia Mall") (Buckhorn, PA)
Fiesta Mall (Mesa, AZ) 
Hampton Towne Centre (Formerly "Hampton Square Mall") (Essexville, MI)
Hawthorne Plaza Mall (Los Angeles, CA)
Skyview on the Ridge (Formerly "Irondequoit Mall" and "Medley Centre") (Irondequoit, NY)
Jamestown Mall (Florissant, MO)
Lenoir Mall (Lenoir, NC)
Lincoln Mall (Matteson, IL)
Canton Centre Mall (Formerly "Mellett Mall") (Canton, OH)
Metro North Mall (Kansas City, MO)
Metcalf South Mall (Overland Park, KS)
Northridge Mall (Milwaukee, WI)
Owings Mills Mall (Baltimore, MD)
Century Plaza Mall (Birmingham, AL)
Cincinnati Mills, Pittsburgh Mills, and St. Louis Mills Malls (Various Locations)
About the Author
---
Seph Lawless is best known for his extensive documentation of deserted locations across the globe, and he has been photographing abandoned American cities since 2005. His images and video renderings are part of an ongoing project called Autopsy of America, which depicts forgotten cities and towns across the United States and intimately portrays the individuals who still inhabit these areas, known as the ones who were "left behind." Lawless's work has been widely reported in the Huffington Post, Daily Mail, Independent, Business Insider, Slate, and on Buzzfeed, Mashable, CNN, FOX News, NBC News, and ABC News.
Praise For…
---
Praise for the work of Seph Lawless

"[Lawless's] images of eerily empty hallways, vandalized escalators and snow-filled concourses are a poignant illustration of the decline of traditional shops." —Newsweek

"Lawless's works draw out the lonesome quality of a social hub many consider a cornerstone of American leisure life." —Mashable

"A knack for capturing eerie and abandoned places." —Business Insider
"His images present a forlorn dystopian world that'll make your skin crawl. . . . But there's some quiet beauty in them, too." —Buzzfeed

"A growing number of malls in the U.S. are now lying in ruins, closed down after years of declining retail traffic. . . . [Lawless] made a career out of documenting these lost and abandoned American tombs of consumerism."—Today