Global Security and Intelligence Studies: Volume 2, Number 2, Fall/Winter 2017 (Paperback)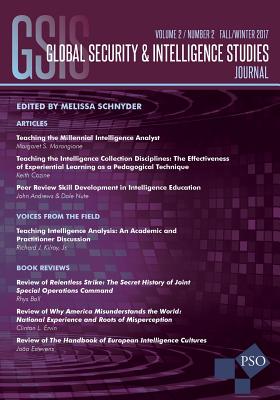 $10.99
We can usually get this book in 3 to 5 days, except during a pandemic. We are doing our best
(This book cannot be returned, even for store credit.)
Description
---
Table of Contents Editorial Welcome Melissa Schnyder
Articles
Teaching the Millennial Intelligence Analyst Margaret S. Marangione
Teaching the Intelligence Collection Disciplines: The Effectiveness of Experiential Learning as a Pedagogical Technique Keith Cozine
Peer Review Skill Development in Intelligence Education John Andrews & Dale Nute
Voices from the Field
Teaching Intelligence Analysis: An Academic and Practitioner Discussion Richard J. Kilroy, Jr.
Book Reviews
Review of Relentless Strike: The Secret History of Joint Special Operations Command Rhys Ball
Review of Why America Misunderstands the World: National Experience and Roots of Misperception Clinton L. Ervin
Review of The Handbook of European Intelligence Cultures Jo o Estevens
Global Security and Intelligence Studies is a bi-annual, peer-reviewed, open access publication designed to provide a forum for the academic community and the community of practitioners to engage in dialogue about contemporary global security and intelligence issues. The journal welcomes contributions on a broad range of intelligence and security issues, and from across the methodological and theoretical spectrum. The journal especially encourages submissions that recognize the multidisciplinary nature of intelligence and security studies, and that draw on insights from a variety of fields to advance our understanding of important current intelligence and security issues. In keeping with the desire to help bridge the gap between academics and practitioners, the journal also invites articles about current intelligence and security related matters from a practitioner perspective. In particular, GSIS is interested in publishing informed perspectives on current intelligence and security related matters.