Qanon and The Dark Agenda: The Illuminati Protocols Explained And The Arrival Of A New World (Paperback)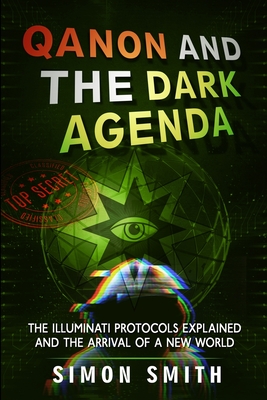 $20.97
We can usually get this book in 3 to 5 days, except during a pandemic. We are doing our best
Description
---
Do you ever wonder if the Illuminati really exist or if it is one of those conspiracy theories that people come up with to explain certain occurrences?
Would you like to know the truth, broken down in a language that is not sugar coated?
If your answer is yes, then read on...
You Are About To Unravel The Secrets Of The Illuminati And Know How It Operates And See The Evidence That It Exists Till Now And Its Entanglement With The Qanon Conspiracy Theory
The question of whether or not the Illuminati exist is something that has sparked a lot of debate around the world for a long time. It is true; the concept of a group of influential people who have control over the world seems like a crazy, far stretched thought, but some people would disagree with this. This probably explains why the existence of the Illuminati has inspired and shaped most of the existing modern secret societies and conspiracy theories, including the QAnon conspiracy
Different people have different thoughts about the Illuminati, which leaves us with even more questions than answers.
The fact that you are reading this means that you want to know the truth and most of all, know whether it exists or not.
I know by now you must probably be wondering...
What are the Illuminati and where did it all start?
Do the Illuminati really exist?
What evidence supports the existence of the Illuminati?
What is the main agenda of the Illuminati, if it exists?
What are some of the conspiracy theories associated with the Illuminati and what is its connection to the QAnon conspiracy theory?
What are the facts and what is fiction?
Do the Illuminati communicate with aliens from other galaxies to help them execute their evil or are they actually aliens that are disguised as people?
If these are the questions separating you from finding out the truth, then you are in luck. This book has the answers to all these questions and many more that will definitely knock your socks off
This book will provide you with all the information you need to understand the inner workings of the Illuminati in a very straightforward and easy to comprehend language.
More precisely, you will learn:
- Who the Illuminati are and how they operate
- What QAnon conspiracy is and the idea of the New World Order - and how it is all connected
- The protocols they follow and some of the symbolism associated with the Illuminati
- Some of the secret societies linked to the Illuminati and what they are all about
- How they hide in plain sight
- Evidence that supports the existence of the Illuminati
- And much more...
With this information, you will be able to dive head in first into the world of the Illuminati and rest the questions that you've been asking yourself about it.
Even if you've never been the kind of people interested in conspiracies, this book will prove different, as it is filled with facts, and well researched information that will have all your questions answered