365 Days: A Diary by Julie Doucet (Hardcover)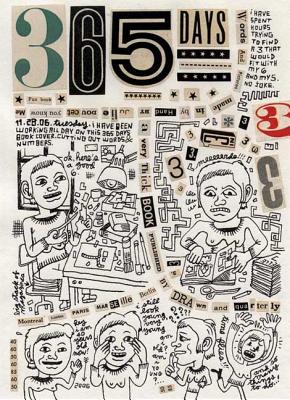 $29.95

On Our Shelves Now as of 24 Hours Ago. Call first to confirm.
Description
---
A year in the life of a world-renowned artist
Despite Julie Doucet's renunciation of her comics-centric lifestyle more than five years ago, 365 Days is imbued with the iconic talent and studied aesthetic of her seminal comic book series Dirty Plotte, which catapulted her into being one of the world's greatest cartoonists. This visual journal, starting in late 2002, is an idiosyncratic collision of her various creative interests, wherein personal narrative, collage, and drawing begin to tell the story of her pursuits into printmaking and beyond, chronicling her maturation as a mid-career artist and her fluid extension into a broader arts community.
Now exhibiting internationally, Doucet blurs the boundaries between high art, illustration, craft, and comics: where panel borders once divided pages, collage creeps in; events and doodles merge; recollection and narrative blend with the abstract. The surreal neurosis of her comics has subsided to reveal a more relaxed creativity that is unrestricted by form or definition and is as engaging as ever.
About the Author
---
Julie Doucet was born near Montreal in 1965 and is best known for her frank, funny, and sometimes shocking comic book series Dirty Plotte, which changed the landscape of alternative cartooning. In the 1990s, Doucet moved between New York, Seattle, Berlin, and Montreal, publishing the graphic novels My New York Diary, Lift Your Leg, My Fish is Dead!, My Most Secret Desire, and The Madame Paul Affair in this time. In 2000, she quit comics to concentrate on other art forms; from these experiments emerged the collection of engravings and prints Long Time Relationship, and her one-year visual journal, 365 Days. Her post-comics artwork includes silkscreened artist's books, text-based collages, and animation films.
Praise For…
---
"Julie Doucet is a conceptual artist trapped in a cartoonist's body . . . finding fresh ways to channel her creative eruptions onto paper." —The Village Voice on Julie Doucet
"Like many of her alt-comics contemporaries, Doucet eradicates any uppity delineation between art and comics." —Bust on Julie Doucet