Punderdome Wild Things Expansion Pack: 50 Cards Toucan Add to the Core Game (Game)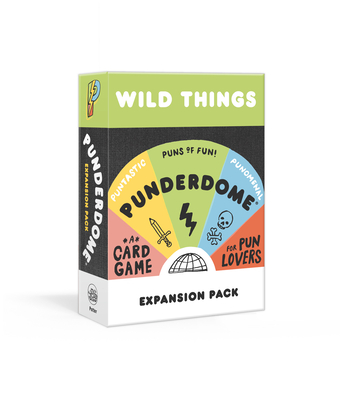 $10.00
On Our Shelves Now as of 24 Hours Ago
(This book cannot be returned, even for store credit.)
Description
---
The smash-hit party game Punderdome has proven that people can't get enough of silly wordplay. Finally, here is a Punderdome expansion pack tied to one of the most popular themes that is perfect for punning: animals. Add this pack of 50 cards that includes 50 animal-themed nouns and 50 punny Q&As to the core game for a fun, more accessible way to play. (This expansion pack includes a link to access the original game instructions online.)

With 50 animal-themed nouns and 50 groan-worthy jokes, this Punderdome expansion pack proves that wordplay is here to stay. Add these 50 cards to the mother game for a more dynamic experience.
About the Author
---
JO and FRED FIRESTONE are the creators of the live Punderdome® event in New York City. Jo is a Brooklyn-based comedian who has written for The Tonight Show Starring Jimmy Fallon and Joe Pera Talks with You. Her father, Fred, is a keynote speaker and workshop facilitator for corporations across the country, and lives in St. Louis.