Back-In-Time and Faster-Than-Light Travel in General Relativity (Fundamental Theories of Physics #193) (Paperback)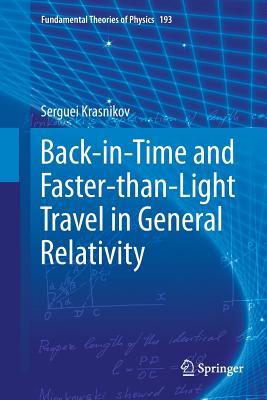 $137.49
We can usually get this book in 3 to 5 days, except during a pandemic. We are doing our best
(This book cannot be returned, even for store credit.)
Description
---
For the past 20 years causality violations and superluminal motion have been the object of intensive study as physical and geometrical phenomena. This book compiles the results of its author and also reviews other work in the field. In particular, the following popular questions are addressed:
Is causality protected by quantum divergence at the relevant Cauchy horizon?
How much "exotic matter" would it take to create a time machine or a warp drive?
What is the difference between a "discovered" time machine and a created one?
Why does a time traveler fail to kill their grandfather?
How should we define the speed of gravity and what is its magnitude?

About the Author
---
Serguei Krasnikov studied at Leningrad State University where he obtained his doctorate in theoretical physics. He is currently a senior researcher at the Central Astronomical Observatory at Pulkovo, St.Petersburg, Russia. He has published a number of well received papers on the topics covered by this book.