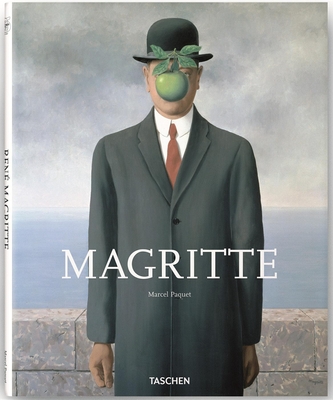 $14.99
Special Order -- These books can be hard for us to get
Description
---
The great Belgian Surrealist: Magritte's paintings give a sense of the amazing, the surprising, and the ridiculous
It is impossible to overlook the influence of Ren Magritte (1898-1967) on contemporary art. His surrealistic painting turns the usual order of things ironically on its head, thus restoring mystery to a world that has lost its magic.
His work typically conveys a sense of the amazing, the surprising, and the ridiculous--but also the unsettling. Without a specific message, Magritte's paintings nonetheless speak to us, creating a connection between opposites on an associative level. Thus a dinner roll can, with complete naturalness, fly past a barred dungeon opening.
In discussing his art, Magritte spoke of "inspired thoughts": he was indeed a painter-philosopher who thought in pictorial form and moved with seemingly playful lightness in the exalted atmosphere of his own imagination.
About the Series:
Each book in TASCHEN's Basic Art series features:
a detailed chronological summary of the life and oeuvre of the artist, covering his or her cultural and historical importance
a concise biography
approximately 100 illustrations with explanatory captions
About the Author
---
Marcel Paquet was born in 1947 in Jumet, Belgium. After obtaining his doctorate in 1978 from the Free University of Brussels with a thesis entitled "La Difference des Pensees de Kant et de Hegel dans la question de l'essence de l'art," he began work on a monumental "Encyclopedie philosophique de la peinture contemporaine." Dividing his time between Brussels and Paris, he has published a number of books on such subjects as Magritte, Paul Delvaux, Botero, and Hans Bellmer.